Thousands pay tribute to Caden Beggan after six-year-old's death
More than 35,000 people had followed updates on the schoolboy's Facebook page after he became ill.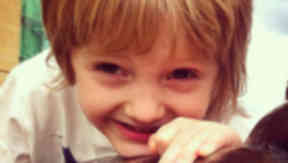 Thousands of online tributes have been paid to a six-year-old boy who gained more than 35,000 supporters on Facebook before losing his fight for life.
Caden Beggan died in the arms of his parents at the Royal Hospital for Sick Children at Yorkhill in Glasgow, where he has been receiving treatment for meningococcal septicaemia for the last four weeks.
Parents David and Angela Beggan announced his death on Facebook shortly after 3pm on Tuesday and thanked all of the 35,340 followers for their support during this time.
His father said on Facebook: "Dear friends, Caden Riley Beggan. Born 29th September, 2006. Died 20th November, 2012…in Mummy and Daddy's arms. Thank you for all your support. Caden is alive forevermore."
Thousands of people had followed updates from the schoolboy's Facebook page since he became seriously ill.
Within an hour of the post from his father more than 5000 people had commented on the post, where they offered their condolences to the family from Cleland in North Lanarkshire.
Julie Lawler said: "Caden, I will never forget you. Your story has had a profound affect on so many people, I'm sure I speak for many when I say that following your journey has changed us all in some way. Rest in peace, brave boy."
Bronwyn Murray said: "What a beautiful brave little boy. He had the face of an angel. RIP little darling. My heart breaks for your family xxx"
Alan Parker added: "The saddest thing I've ever read. So sorry for your loss."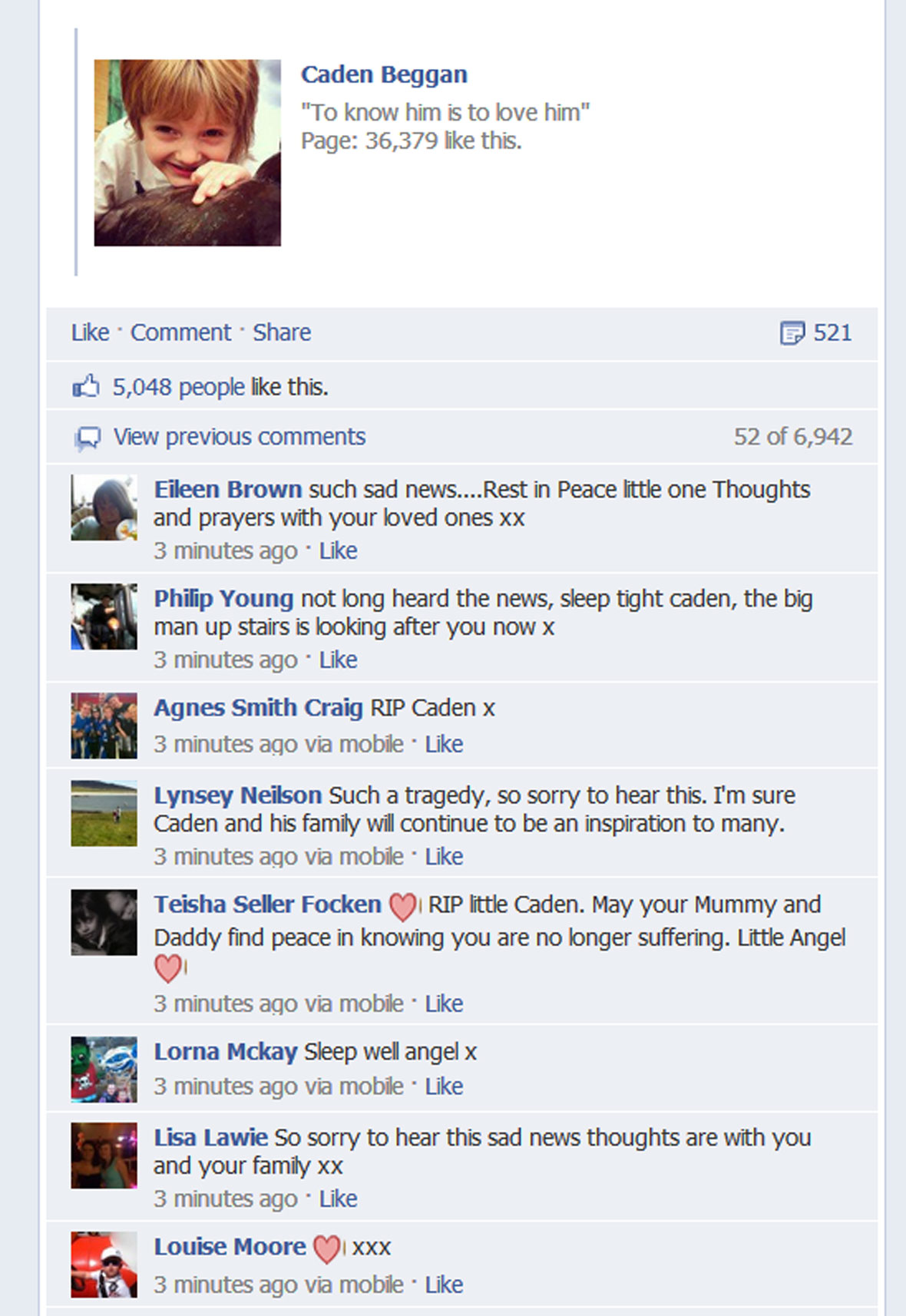 Caden was a pupil at Ladywell Primary School in Motherwell. On Friday, November 16, some of his classmates had their picture taken next to a First Bus which had been painted pink, with words of encouragement for Caden across the bus.
Ladywell Primary head teacher Pat Ashworth paid tribute to Caden. She said: "The whole school is terribly shocked and upset at Caden's tragic death.
"He was an amazing little boy who will be sorely missed by everyone who knew him and the many thousands of people who followed his struggle on Facebook.
"To see him lose such a hard fought battle is heartbreaking and our thoughts are with his family and friends. We are very grateful to everyone for the support they have shown both to Ladywell Primary School and the Beggan family.
"Breaking this sad news to our children will be very difficult and will be handled as sensitively as possible."
Caden took ill on October 23 and two days later his parents set up a Facebook group to provide daily comments from his bedside.
In the last month he battled problems with his lungs, liver, kidney, bowel, heart and skin. On November 6, he had both of his legs amputated and 11 days later, an operation left him without his left hand.
The symptoms of meningitis and meningococcal septicaemia may not be easy to spot at first because they are similar to those of flu. They can develop over a couple of days, but sometimes very quickly in a matter of hours.
Some of the symptoms in children include fever, vomiting, severe headache, neck stiffness, dislike of bright lights, drowsiness, confusion and painful joints. If symptoms occur, the patient should see a doctor immediately.