MP calls for inquiry into HMRC after Rangers wins 'big tax case'
Brian Donohoe, from Rangers Supporters Club at Westminster, calls taxman's approach 'cack-handed'.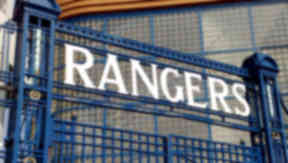 An MP is calling for a parliamentary inquiry into the taxman's pursuit of Rangers over the club's use of Employee Benefit Trusts (EBTs).
Brian Donohoe, secretary of the Rangers Supporters Club at Westminster, says HM Revenue and Customs' approach was "cack-handed".
The old company which ran the club was forced into liquidation earlier this year after HMRC blocked a proposed deal with creditors.
Mr Donohoe, a Labour MP for Central Ayrshire, is calling for an inquiry into the taxman's actions. He said: "I think it's cack-handed and it's been demonstrated as such. They've got now the decision of the tribunal. They're now even talking about the possibility of going to an appeal, and it really is time for them to get their act together.
"And I'm hoping that Margaret Hodge in her committee, the PAC, will look at this more closely, in order that no football club will suffer the consequences of the HMRC action, as has been the case in this."
The tribunal sat for 29 days in Edinburgh. According to Murray International Holdings, the final tax bill could have been as high as £90m if they had lost. But by a majority, the tribunal judges ruled its use of EBTs had been legal.
HMRC is now considering whether to appeal against the tribunal's ruling and it could come under pressure from some quarters not to let the matter drop.
The National Audit Office at Westminster criticised HMRC for not doing enough to clamp down on aggressive tax avoidance schemes. Experts said it was unclear what would happen next.
Neil Patey, from Ernst and Young, told STV News: "I think they will think long and hard before deciding one way or another. I think there is a chance that they will go ahead and appeal this, but if they do, that will take a long time.
"We're talking months, probably years, before this gets through the whole appeal process. They may decide, based upon yesterday's findings, that that's enough for now and they will pursue other cases on other merits."
In light of the tribunal's findings, Rangers fans are calling for the SPL to scrap its investigation into allegations that the club made undisclosed payments to players.
Ross Blyth, from the Rangers Supporters Assembly, said: "There's a perception in the country, created by a lot of people - football people, by some parts of the media as well - that Rangers were guilty before trial here. I think they should just scrap that SPL investigation now into stripping of the titles before they further embarrass themselves."
The Scottish Premier League declined to comment.