Red Hot Chili Piper crafting bagpipes for bands across globe
A look behind the scenes at Anniesland's Wallace Bagpipes, run by Red Hot Chilli Piper Craig Munro, to see how bagpipes are made.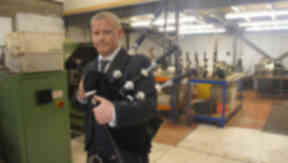 The skirl of the bagpipes instils in many a sense of pride.
It is the national instrument and the powerful drone can be heard at weddings, rugby matches, ceilidhs and Burns Suppers all year round.
Not only are pipes popular here in Scotland, musicians and pipe bands across the world like to play an instrument that not only sounds Scottish but is made here too.
From Australia and Hong Kong to Singapore and Jerusalem, bagpipes are in demand almost everywhere.
And in a small factory in Anniesland, sets of bagpipes are carefully crafted and sent off to all corners of the world. Wallace Bagpipes produces around 750 bagpipes every year, and Red Hot Chilli Piper Craig Munro is at the helm.
Inside the factory three men are busy working away crafting blocks of African Blackwood from Tanzania into chanters and drones. It can be a long process with one set taking days to complete.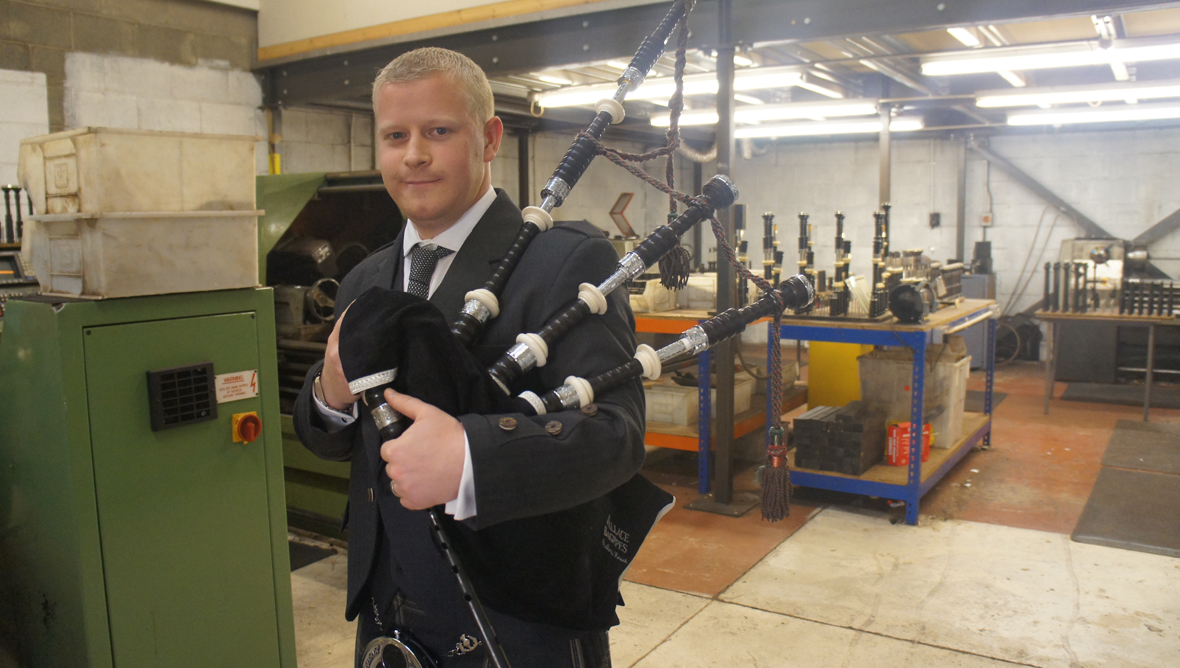 Craig Munro
"Our approach to manufacturing and the route that I've taken with Wallace Bagpipes is much more traditional," says Craig.
"There are a few different ways you can manufacture the bagpipes. There's the computer computer controlled router (CNC) which pretty much does everything you need to make a set of bagpipes, or the more traditional path.
"I have a term that I use at Wallace Bagpipes and I call it 'the best of both worlds' because I try and fit both into that.
"We would use the CNC machine to shape our bagpipes and then we would hand finish them."
Wallace Bagpipes began in 2005 after Jim Wallace and David Hendry, who owned a company named Jet Engineering, decided that they wanted to go into the bagpipe-making industry. They took Craig on board because of his knowledge of the instrument and he was asked to lead the business in January 2012.
Bagpipes do not come cheap. Simple sets of bagpipes start at around £750 rising to £2500 for pipes with the bling factor - silver engraving, extra detailing, the touches that you would want to make a big noise about.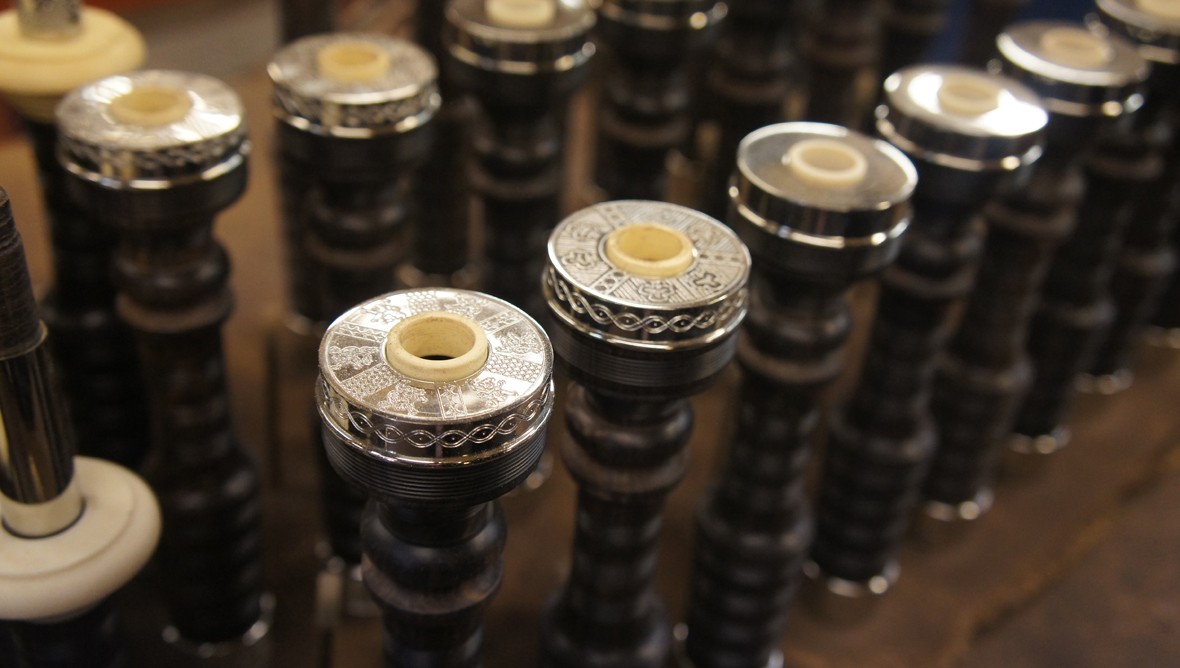 Examples of engraving on Wallace Bagpipes.
But no matter the cost, the same amount of care and consideration is put in to every pipe that is made. This is a business where passion matters just as much as the pounds.
Craig, 28, said: "When it comes to the manufacturing process and the timing there is a lot more time involved when it comes to the higher end models because with the basic sets you don't have to hand finish them.
"The actual internals are all the same. The only pricing differences are really just decorative.
"Every single set of bagpipes would sound exactly the same because all of the initial boring is all the same."
Craig owns four sets of Wallace bagpipes and takes a different one with him when he is competing and teaching around the world to show off what the factory can produce.
He said: "Unlike other people where they might actually go to a current manufacturer and serve a bagpipe apprenticeship, I'm completely self-taught.
"But with my engineering background, putting that together with my knowledge of bagpipes, because I play the bagpipes, it meant that I was able to produce, what I think are, a good set of pipes."
At Wallace Bagpipes almost any engraving can be done to make the instrument unique for the owner.
But perhaps one of the most standout orders for the small business was making a set intended for Mel Gibson.
Craig said: "A few years ago we were contacted by the production company of the film Braveheart. They were celebrating a Braveheart anniversary and what they want to do was present Mel Gibson with a unique set of bagpipes.
"The bagpipes back then would have had two drones, on tenor drone and one bass drone, and the design of them would have been completely different.
"We had to manufacture a brand new set of bagpipes that replicated a set of pipe that they would have used in the past.
"We are led to believe that these pipes were then presented to Mel Gibson at the anniversary of the Braveheart film.
"Unfortunately we never got any photographs out of it, that would've been great."
All parts of the pipes are made in the factory but any bags and reeds which are needed are outsourced.
Bags can be bought in either a synthetic material or sheepskin and goatskin.
"Sheepskin and goatskin have their advantages," says Craig.
"In my opinion, any set of bagpipes with a sheepskin bag or a goatskin bag fitted to it will probably produce the best sound for that bagpipe.
"But maintenance-wise they are a lot harder. You would need to play your bagpipes every single day because if you don't it dries out."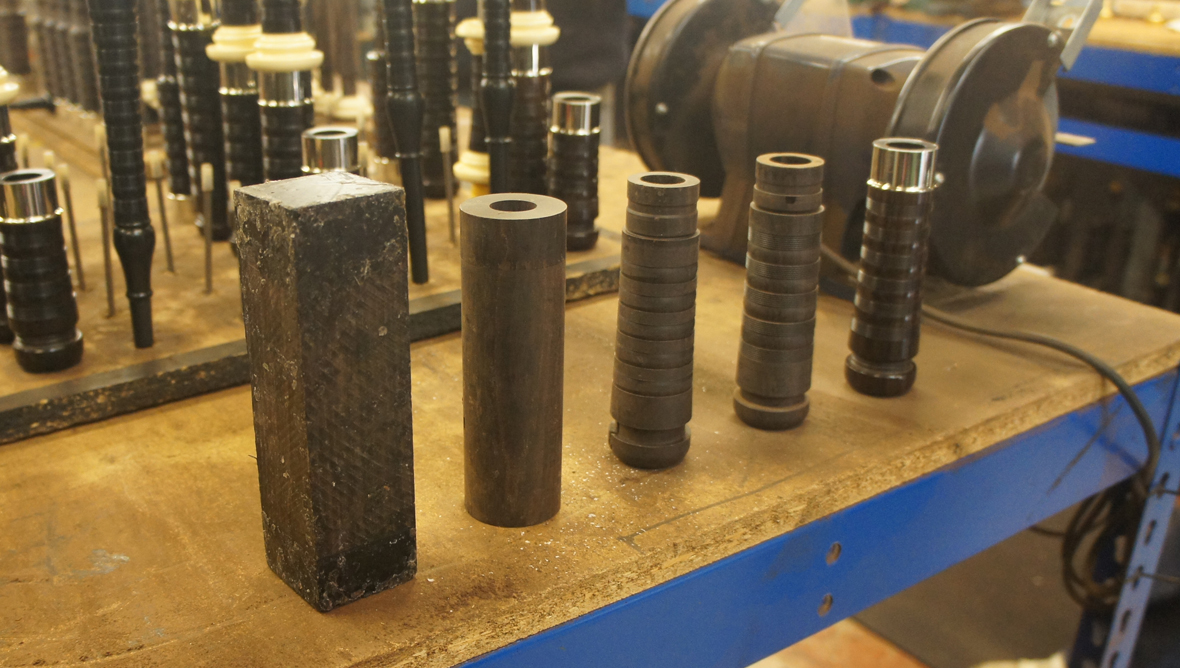 From start to finish.
Christmas is the busiest time of year for Wallace Bagpipes and it is also a busy time of year for Craig as he always has a few gigs with the Red Hot Chilli Pipers.
But when it comes to choosing between playing the bagpipes and making them it is a close call.
"I love playing the bagpipes, of course I do," he says.
"I remember being a kid and learning the bagpipes through all of the different stages.
"But I have got to say there is something special about making bagpipes, especially when you meet the customers who you have made the bagpipes for.
"I do a lot of teaching all over the world at workshops and I have people on the other side of the world who approach me to say that they play a set of our bagpipes and they absolutely love it and it's a pleasure to meet me.
"For that reason it's actually quite special being a bagpipe-maker and getting to meet people that take so much joy in owning something you've actually produced."
Video by Greig Gallagher