Rangers tax case leaks: Sir David Murray makes 'criminal complaint'
The former owner of Rangers believes the publication of his tax affairs was 'unlawful'.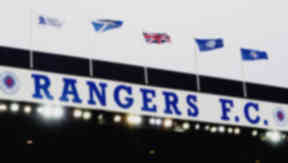 Lawyers for former Rangers owner Sir David Murray have called for a criminal investigation to be launched after details of his tax affairs were published in the media and online.
In a statement released on Tuesday, his lawyers Levy and McRae stated that they had been instructed to "submit a complaint to the Crown Office and Procurator Fiscal Service regarding the publication of information relating to his tax affairs".
The complaint is believed to centre on information about Sir David's use of employee benefit trusts (EBTs) at Rangers and Murray International Holdings.
Last week a long-awaited First Tier Tax Tribunal found that most of the offshore trusts were "valid" and loans are "recoverable" by the trusts, although it conceded some advances to players were taxable and any bill is likely to be "substantially reduced" from the initial £46.2m assessment.
In the 18 months before the verdict, the 'big tax case' had been the subject of widespread coverage in traditional media outlets and on websites.
One of the major journalistic investigations that looked into the EBT scheme was the Men Who Sold the Jerseys documentary by BBC Scotland's Mark Daly, which recently won a Scottish Bafta.
It is believed the complaint from Sir David relates to establishing the source that leaked the details of the EBT payments at Rangers to the BBC, as well as on the Rangers Tax Case blog and other sites.
Earlier this year the blog won the Orwell Prize for its work, but, following the decision of the tribunal, all posts on the site dating back to last March were deleted, with a single article replacing them that stated the result of the case had come as a "surprise".
On Tuesday, Professor Watson said: "Sir David regards such information as private and confidential and the publication of such information as unlawful. He has asked that this matter is investigated and that anyone found guilty of breaching the law is the subject of prosecution."
The three-person tribunal could not reach a unanimous decision on the club's use of EBTs between 2001 and 2010, while HM Revenue and Customs said it was "disappointed" with the tribunal's findings.
Sir David sold his 85% in Rangers oldco for £1 to Craig Whyte last May. In February this year the club appointed administrators with debts of up to £134m.
In June administrators Duff and Phelps confirmed it had failed to secure a route out of the insolvency event and the club's assets were sold to a newco owned by a Charles Green-led consortium in a £5.5m deal. The oldco, now RFC 2012 plc, formerly The Rangers Football Club plc, has been placed into liquidation.