Jehovah's Witness jailed for sexually abusing boy
Thomas Gold groomed the child and subjected him to indecent acts over a seven-year period.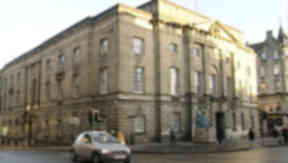 A Jehovah's Witness who groomed a boy before subjecting him to sexual abuse has been jailed for six years and eight months.
Lord Bannatyne told Thomas Gold that it was clear his criminal conduct had "a considerable impact" on the victim.
The judge said at the High Court in Edinburgh: "The behaviour occurred over a substantial period of time and started when he was seven years old."
The judge said that a background report on 45-year-old Gold had described him as having "systematically groomed" the youngster in order to sexually abuse him.
He ordered that Gold, of Moir Street, Alloa, in Clackmannanshire, should also be kept under supervision for a further 40 months.
Unemployed Gold earlier admitted committing indecency towards the boy on various occasions between November 1996 and November in 2003 at a house in Tullibody, in Clackmannanshire.
The victim revealed the abuse to relatives last year and later went to police. Gold later gave details of his offending to police, although at one stage during an interview he said he felt sick.
The court heard that when the boy was seven Gold had begun kissing and cuddling him and assured him it was alright to do such things. But over time his behaviour escalated and he began performing sex acts on the child.
The youngster was also taken out canvassing by Gold in his capacity as a Jehovah's Witness and he would take him to the Kingdom Hall. But as a teenager the victim revealed to elders at his church what had been taking place.
Advocate depute Alison Di Rollo said they told him it was wrong and warned that if it continued he would be "dis-fellowshipped" as the church disapproved of homosexual behaviour. They also tried to persuade him to go to the police.
Gold was also spoken to and said: "I wish I'd never started this."
Ms Di Rollo said the victim later saw a psychiatrist "in relation to suicidal thoughts and depression".
Defence solicitor advocate Brian Gilfedder said: "As far as the offence is concerned it is very difficult for me to stand here and say anything that could be described as mitigation."
"The accused is well aware and has been well aware that this was wrong. It is accepted by him that a sentence of imprisonment is inevitable," he said.
He added that Gold had never really been in trouble before.
Gold was placed on the sex offenders' register for the rest of his life.