Nurse accused of telling colleague to 'f*** off back to England'
Derek Steel faces the Nursing and Midwifery Council hearing into misconduct allegations.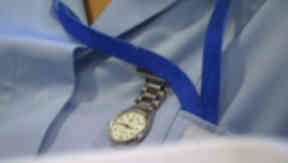 A care home nurse is facing a disciplinary watchdog after being accused of telling a colleague to "f*** off back to England".
Derek Steel faces seven misconduct allegations from the Nursing and Midwifery Council at a hearing scheduled to begin in Edinburgh on Monday.
He is accused of calling the woman he worked alongside in North Lanarkshire an "English twit".
The council alleges that Mr Steel put his hand down the back of his female colleague's trousers and fondled her while working at the Rawyards Care Home in Motherwell Street, Airdrie.
He also faces the accusations that he pulled the bra strap of another woman he worked with during July 2010 and of making "inappropriate sexual comments to female colleagues", including telling one that she "must not be getting enough sex at home".
Mr Steel is said to have impaired his fitness to practice according to the council through making "inappropriate comments" to one colleague about English people and Catholics, as well as failing to cover a woman patient with a towel when giving her a bed bath.
He is accused of a further misconduct accusation by the council of saying to a female patient at the home "I do not mix business with pleasure" when he was required to insert a catheter in her bladder.
The council's conduct and competence committee is scheduled to hear the case until Wednesday.