Hunterston B nuclear power plant has life extended by seven years
The North Ayrshire facility will operate until at least 2023 under the announcement.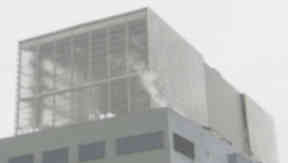 One of Scotland's oldest nuclear power stations has had its operating life extended by seven years.
The Hunterston B plant in North Ayrshire started generating power in 1976 and had a decommissioning date of 2016.On Tuesday, EDF Energy announced that it would be extending the closure date to 2023.
Hunterston B, located near Largs, had been scheduled for shut-down in 2011, but this was previously extended and it employs around 700 staff and contractors.
Station director Colin Weir said: "This is great news for Hunterston B, Ayrshire and for Scotland. I am personally delighted that it gives my staff many more years of job security and for the positive effect that that in turn has on the local economy.
"We can now continue to provide highly skilled jobs for more than 700 people. Today's announcement is also recognition by EDF Energy of the professionalism of everyone at Hunterston B, which has been supplying electricity to Scotland for more than 36 years."
EDF Energy said Huterston B produces enough energy to power one million homes, and injects around £40m into the local economy. The firm also stated that the station "avoided at least 160 million tonnes of CO2 from entering the atmosphere", while EDF Energy also announced that its sister facility Hinkley Point B had its operating life extended by seven years.
The energy firm's chief executive Vincent de Rivaz said: "This decision will provide low carbon energy to keep the lights on in the UK and it will safeguard jobs at the plants, in the UK nuclear industry and its supply chain. It follows a thorough review of safety over the lifetime of each of the plants.
"We continue to invest £300m each year on capital expenditure in the nuclear fleet, and we spend an additional £350m on plant operations with 90 per cent of the total being spent in the UK. Extending the plants' lives also brings significant training and employment opportunities for a new generation of nuclear engineers and operators as we seek to develop the UK's position as a primary source for skills and expertise in the industry."
The Scottish Government is opposed to new nuclear power stations and can effectively veto any UK Government plan to build more north of the border. The SNP administration wants to phase out nuclear but is not opposed to extending the life of existing stations while making a push for renewable energy to cover the country's electricity needs.
A Scottish Government spokeswoman said: "We have consistently made it clear that nuclear energy will be phased out in Scotland over time, with no new nuclear build taking place in Scotland.
"But we have also consistently made clear that this does not preclude extending the operating life of Scotland's existing nuclear stations to help maintain security of supply over the next decade while the transition to renewables and cleaner thermal generation takes place.
"Subject to the relevant safety cases being made, the Scottish Government would not oppose operating life extension applications at Torness and Hunterston. Scottish Government policy is against new nuclear build."
SNP, Liberal Democrat and Green MSPs voted in 2008 to oppose new-build nuclear stations.
Patrick Harvie MSP, Scottish Green Party co-convener, said: "Scotland doesn't need to sweat its nuclear assets to keep the lights on. This extension shows how light touch regulation is failing us and the Scottish Government shouldn't just wave it through.
"The Scottish Parliament has voted against new nuclear, and it's clear our renewables targets are achievable. Why on earth would we allow EDF to increase our toxic waste legacy and continue the risks of running a plant built in the 60s?"
Dan Barlow, of environmental group WWF Scotland, said: "Nuclear power is the ultimate unsustainable form of energy so it is disappointing that EDF Energy has been granted approval by the UK Government to extend the life of Hunterston."