Jail for killer's accomplice who fled to Cyprus
Jeremy Curran helped retrieve a sawn-off shotgun used in the murder of 18-year-old Andrew Devlin.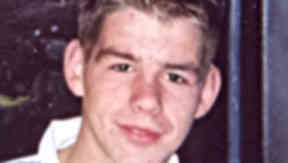 A mortgage broker who fled abroad while facing a murder charge has been jailed for eight years after possessing the gun used in the fatal shooting of an innocent teenager.
Jeremy Curran went with killer Anthony Collins to retrieve the murder weapon - a pump action sawn-off shotgun - on the morning after 18-year-old Andrew Devlin was gunned down outside a nightclub in Paisley.
Curran, 27, was originally charged with committing murder but failed to turn up for his trial in 2009 and flew to Cyprus. A European arrest warrant was enforced and he was returned to Scotland where he earlier admitted illegal possession of the gun on August 4 in 2007 and failing to appear for his trial.
Lord Emslie told him at the High Court in Edinburgh: "You have pled guilty to serious firearms offences on the morning after the weapon in question had been used in a fatal shooting in Paisley.
"Your involvement here comes very close in time to the fatal shooting and it was in the company of a man, Anthony Collins, who was subsequently convicted of murder," he said.
The judge said he took into account that Curran's counsel had submitted that he did not actually know the gun was used as the murder weapon the night before.
But Lord Emslie added: "Any handling or possession of a prohibited weapon is a matter of which this court has to take a serious view and the same goes for failing to appear for a murder trial in the High Court."
He said he also noted that Curran was assessed as posing "a significant risk" of re-offending. He jailed Curran, formerly of St Ronan's Drive, Glasgow, for six years for firearms offences and a further two years for the failure to appear for trial.
Curran's defence counsel Edward Targowski QC said there was "no evidence at all" against him on the murder charge he had faced but he had panicked ahead of his trial and fled.
He said he now understood that the Crown accepted that Curran would have been acquitted on the murder charge.
At the original trial Collins, 31, was convicted of murdering Mr Devlin and the attempted murder of Gerald O'Doherty who was believed to be the intended target in the shooting outside SuzyQ's on Paisley's Stock Street on August 3 in 2007.
Collins was jailed for life and sentenced to a minimum of 20 years' imprisonment for his role in the drive-by murder.