Six puppies found abandoned in box in freezing temperatures
The puppies have been named Dasher, Dancer, Prancer, Vixen, Comet and Cupid.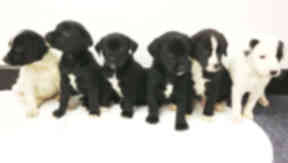 Six puppies have been found abandoned in a box in freezing temperatures weeks before Christmas.
The puppies, who have been named Dasher, Dancer, Prancer, Vixen, Comet and Cupid, were handed into animal welfare charity the Scottish SPCA.
A member of the public discovered the six-week-old male and female crossbreeds beside a wheelie bin shelter in Pollok, Glasgow, on Wednesday morning.
Scottish SPCA staff at the Glasgow Animal Rescue and Rehoming Centre in Cardonald are now caring for the puppies.
Centre assistant manager Anna O'Donnell said, "It's so sad that these lovely guys and girls have had such a tough start in life.
"The pups weren't cold, which we would have expected if they had been left outside all night, so we don't think they had been there for too long before they were found. All the puppies are really friendly and in good condition so it seems they have been well cared for up until now.
"It's possible someone has panicked after their dog had an unplanned litter and didn't want to find suitable new homes for the puppies themselves.
"We're very glad the pups are now safe and we'll soon be looking to find them the loving owners they deserve."
Anyone with information is being urged to contact the Scottish SPCA animal helpline on 03000 999 999.