Sixty-seven players 'in legal action' over Rangers contract transfer
Sone Aluko, Jamie Ness and Kyle Lafferty have raised separate claims against the Ibrox club.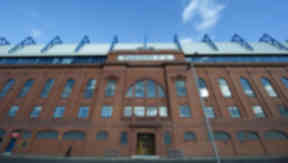 Sixty-seven players are involved in legal action against Rangers over the handling of their contracts.
PFA Scotland has raised an employment tribunal claim, which Rangers say is on behalf of 67 unnamed players, relating to a failure "to inform and consult".
The action relates to the transfer of player contracts between the oldco and newco Rangers following the sale of the oldco's assets to Charles Green's consortium.
In addition, three former players Sone Aluko, Kyle Lafferty and Jamie Ness are taking Rangers to a separate employment tribunal over the circumstances that led to them leaving the club, citing "constructive dismissal".
STV understands both claims have been lodged with HM Courts and Tribunal Service in Glasgow, though no dates for hearings have yet been set.
Lawyer Donald MacKinnon explained the situation: " Where a company is sold or otherwise changes hands, there is an obligation on both the old company and the new company to consult with the affected staff.
"In this particular case, if there is a failure to consult with the affected staff then the player's representatives or the company or the employees' representatives can make a claim to an employment tribunal for that failure and the tribunal may award up to 90 day's pay for each affected employee.
"That is a sum that can be awarded against both oldco and newco and they are jointly liable for that."
A spokesman for the Ibrox club said: "Rangers position is that these claims are baseless and invalid and affect, in reality, a small number of players who left the club in the summer."
A consortium of businessmen led by Charles Green bought the assets of Rangers old company while it was in the hands of administrators. Player contracts were transferred to the new company under TUPE legislation when Mr Green's consortium took control of the club.
However, several first team players refused to transfer their contracts and left for other clubs, a matter which has been taken to the Scottish Football Association for arbitration and will be heard next year.
Details of the claims being raised were detailed in a share prospectus issued by Rangers ahead of their stock market flotation.
In the prospectus, the Ibrox club challenged PFA Scotland's right to bring a claim on behalf of 67 players and said it wants a pre-tribunal hearing to dismiss their claim.
Rangers also said that they will defend the separate claim by Aluko, Lafferty and Ness.
The share proposal also states: "They claim constructive dismissal. [Rangers Football Club Ltd] has challenged the right of these players to bring such claims for a number of separate jurisdictional reasons, but in any event these are low value claims."
Rangers believe the claims have been made "for tactical purposes" relating to the dispute over the transfer of their registration which the Scottish FA arbitration is to settle.