Clyde One presenter Suzie McGuire accused of assaulting husband
Forty-three-year-old DJ arrested on Saturday night after disturbance at her Eaglesham home.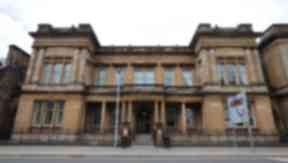 Clyde One presenter Suzie McGuire appeared in Paisley Sheriff Court on Monday accused of assaulting her husband.
The 43-year-old DJ was arrested on Saturday night after police were called to a disturbance at her home in the Renfrewshire village of Eaglesham.
The mother-of-four was held in police custody over the weekend before being taken to court by police on Monday afternoon.
Answering to her married name of Susan Mitchell, she made no plea or declaration to charges of assault to injury and threatening or abusive behaviour towards her husband, Derek Mitchell.
She was granted bail and the case was continued for further examination but no date was set for any future court appearance.
McGuire left the court by a back door to avoid members of the press that had been waiting for her outside.
The presenter and her 34-year-old husband married in 2010 and had a second child in September. She has two other children from a previous relationship.