Rangers chief Charles Green claims investors are 'bona fide'
The Ibrox club's chief executive was interviewed on Scotland Tonight.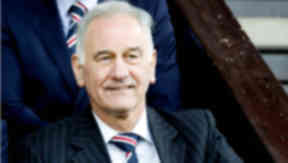 Rangers chief executive Charles Green claims the club's investors are "bona fide" and have been approved by a finance watchdog.
He stated in an interview on Tuesday's edition of Scotland Tonight that his consortium has secured £17m from institutional investors after the launch of the initial public offering of the share issue in The Rangers Football Club Ltd's parent company, Rangers International Football Club plc.
According to the share prospectus, sent to interested fans and investors last week, Mr Green is the largest single shareholder with a current 14.9% stake in the club.
The origin of the second largest shareholder, Blue Pitch Holding with 11.9%, is unknown, although Mr Green previously stated that the "legal beneficiary" of the entity was a Middle Eastern lawyer, Mazen Houssami.
While the country where Margarita Funds Holding Trust, which owns the fourth biggest stake in Rangers with 8.9% of shares, is also unclear, while the identity of those behind it has not been publicly divulged.
Other major shareholders include Newcastle United and Sports Direct owner Mike Ashley and Imran Ahmad, who first got involved with Rangers through his involvement in investment firm Zeus Capital.
In the Scotland Tonight interview, Mr Green stated that all of those who currently own shares have been cleared by the Financial Services Authority, which regulates financial services in the UK.
He said: "As with many things people invests through companies or through trusts, not everyone invests in their own name. All of these people who've bought shares in Rangers have been vetted by the FSA, Simply Stockbroking, the company who were appointed to do all the KYC (know your company) on these people, have been satisfied that these people are bona fide. And of course following the problems that the club had historically all of the details have been provided to the SFA to confirm that they are fit and proper."
Scotland Tonight's John MacKay then asked Mr Green: "You know who all these shareholders are?" The former Sheffield United chief executive replied: "Yes, I do."
Mr Green continued: "Some of the people in these companies are huge, huge investors in other businesses. Rangers to them is a very small almost secondary interest. It's very important in Scotland and it's very important to Rangers fans. For these people they saw an opportunity to invest in a Scottish institution."
He added: "I said when I first came along the reason for me doing it was to make money and the only thing that's changed since the statement I made in May is that my time-scale has been considerably extended.
"How we can make a huge amount of money is by getting this club back into Europe, back playing in the Champions League and maybe part of any European restructuring because the future of football is changing, not just in Scotland, but on a European scale."
He was also questioned about the plans for any cash raised from the share offering, which concludes later this month.Mr Green said improvements to Ibrox stadium would be one of the aspects that the money would go towards. According to the prospectus, the owners expect to raise £24.5m through the stock market flotation, with an initial £5.5m of which would be invested in "upgrades to Ibrox stadium". During Tuesday's programme, Mr Green said it would include the creation of more bars in the stadium, with a view to improving the "fan experience".
According to the prospectus, a further £3.5m could be put forward for stadium improvements, while £4.5m would be used for "acquisition of land assets adjacent to the stadium" and between £2m to £5m for "other identified projects which could result in additional revenue generating activities".
If the target total of shares is achieved, between £11.5m and £6m of the remaining money would be used for "general working capital purposes" and "cash could also be used to provide the directors with additional flexibility to opportunistically consider appropriate investment opportunities as and when they arise."
However, he claimed in the interview on Scotland Tonight that the consortium that owns Rangers "don't need the money" from the share issue, while he stated that should the offering to fans fail to result in the purchase of a 19.86% stake in the parent company, Rangers International Football Club plc, the remaining shares would then be offered to further institutional investors.