Diving for Pearls migrant project celebrates shipbuilding past
Elvis Costello's song 'Shipbuilding' has sparked a community project that celebrates shipbuilding and the impact of migration in Govan.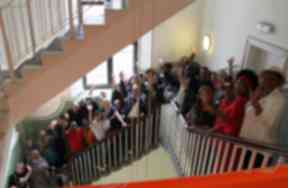 "The result of this shipbuilding, with all the will in the world. Diving for dear life, when we could be diving for pearls."
These Elvis Costello lyrics depict the tragic legacy of war-time shipbuilding. They lament the workers from docks such as Govan, Tyneside and Belfast who built ships to replace those sunken in the Falklands, before being sent off to fight and die on similar vessels.
Though the shipbuilding industry made these communities prosper, it also robbed them of a generation of sons.
Costello's song 'Shipbuilding' was the stimulus for a local community project in Govan, Diving for Pearls, which explores Glasgow's once booming shipbuilding industry and its subsequent decline.
In a year-long initiative delivered by Govan and Craigton Integration Network, and funded by £43,500 from the Heritage Lottery fund, members of the local community are able to learn and celebrate Govan's proud history through film-making, storytelling, song and carpentry.
Workshops in oral history, run in collaboration with the Scottish Oral History Centre at Strathclyde University, teach locals how to capture stories from their local area and re-tell them, while boat-building workshops at Galgael see participants hammering and sanding to create their own ship.
The project also celebrates the generations of migrants who have immersed themselves in Govan life over the years.
"The ship-building industry made Govan prosper, but it was a double edged sword," said Isobel Harland de Benito, Project Development Worker for Govan and Craigton Integration Network
"The men were often made to fight on ships they'd created.
"Govan also has a long history of migration, of people coming down from the Highlands or from Ireland, and refugees fleeing war and coming in to the city.
"We want to explore the link between the shipbuilding industry and migration, and to capture the migrant voice."
Little has been done to document migrant integration into Govan, despite it being intrinsic to the history of the community.
As a result of the Clydeside shipbuilding trade, Govan's population grew from 2,500 in the early 19th century to 90,000 at the turn of the 20th.
This surge was mostly due to an influx of migrant workers from the Highlands and Ireland, who settled and went on to make Govan their home.
Since then, events such as the Irish potato famine and Glasgow becoming an asylum seeker dispersal city in the year 2000 has meant a further intake of migrants, mostly international refugees.
Govan and Craigton Integration Network, established in 2001, was originally created to help newly arrived asylum seekers. As the network has developed, it has evolved into a multi-agency forum that helps foster bonds within and between communities in the area. They now offer services such as community drop-in sessions, arts projects, English classes and cross-cultural events for locals to participate in.
"There's little written about migrant heritage in Govan," said Isabel.
"The participants in the project are people who are connected to Govan, who are either born and bred in Govan, or who have worked or moved here, or who are refugees or asylum seekers who have settled there."
Participants will take part in workshop programmes, ranging in length from 12 weeks to 20 weeks. The film making workshops teach participants the basic skills to create three minute short films. They are also encouraged to assist in the production of a 20 minute Diving for Pearls documentary, which will be released at the end of the year-long project.
A different part of the project will create a piece of public artwork, which will be given pride of place within the Govan community. Another workshop will teach locals to gather stories and to research and compile historic information about the area, later turning these stories into songs.
All of the final pieces will be centred around the themes of migration and shipbuilding.
The various workshops will culminate in a documentary, theatre performance and exhibition at the time of Refugee Week in June. The exhibition will be held at Fairfield Shipyard museum, as the team behind the museum have taken an active role in supporting Diving for Pearls.
"The response from people has been good so far, they're very enthusiastic," said Isabel.
"People are learning something new at no cost to them, they're exploring new skills.
"One of the women in the project is in her 60s, and used to be a night nurse in one of the local hospitals. She is now in the boatbuilding class learning carpentry, and really enjoying it.
"It gives people the opportunity to learn something new, to meet other people from Govan that you wouldn't normally engage with. It gives the refugee community the chance to be involved with other people from Govan."