Man in court over Twitter 'threat' to BBC Scotland journalist Mark Daly
The 35-year-old man was detained in Clydebank, West Dunbartonshire.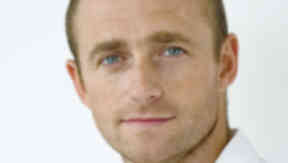 A man is due to appear in court charged with threatening BBC Scotland journalist Mark Daly.
The 35-year-old man was arrested in Clydebank, West Dunbartonshire, last Wednesday.
It is believed the arrest relates to comments directed to Mr Daly on micro-blogging site Twitter.
Earlier this year Mr Daly and his team won a Scottish Bafta for current affairs programming for his documentary, Rangers: The Men who Sold the Jerseys, which was broadcast in May.
In the show, Mr Daly revealed the details of payments made to players and staff through offshore employee benefit trusts (EBTs) between 2001 and 2010, which was the subject of the 'big' tax case.
During the programme he also levelled allegations of a conflict of interest against Rangers oldco administrators Duff and Phelps, who were appointed by former owner Craig Whyte. The insolvency firm has repeatedly denied the accusations.
Last year Mr Daly also investigated former Rangers owner Craig Whyte in a BBC Scotland, where he revealed that the businessman had previously been banned from serving as a director for seven years.
A spokeswoman for Strathclyde Police said: "At around 7am on Wednesday, December 12, a 35-year-old man was detained in the Clydebank area and subsequently arrested by officers from the Football Coordination Unit for Scotland (Focus) in relation to an allegedly threatening online comment.
"He was released on an undertaking to appear at Dumbarton Sheriff Court on January 10, 2013."
A BBC Scotland spokesman said: "It's a matter for the police and the courts. We take the safety of our journalists very seriously."