Optimo bring 15th year to a close with Hogmanay at the Glue Factory
JG Wilkes, one half of Optimo (Espacio) explains why the old warehouse in Speirs Locks is the perfect venue for the duo's New Year's Eve bash.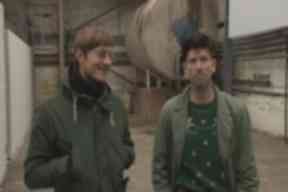 Take the site of an abandoned glue factory, install some bars from the old Art School, hang some disco balls then set up some karaoke machines in the toilets and you're guaranteed a memorable night.
And when the event in question is hosted by Glasgow's hottest DJ double act on Hogmanay, it's no wonder that it's one of the most eagerly anticipated parties of the year.
Optimo aka JD Twitch and JG Wilkes are bringing their 15th anniversary year to a close with a New Year's Eve extravaganza at The Glue Factory.
After falling in love with the cavernous Speirs Locks warehouse at last year's New Year's Eve party the boys are back to ring in the bells for 2013.
One half of Optimo, Jonnie Wilkes (Wilkes), explained: "Any time I've been to an event here it's been completely different. It's a labyrinth – there's so many different rooms.
"On New Year's Eve we're going to have a karaoke area in the toilets and we'll have someone playing in the bar area. Then there's a longer subterranean garage space which will be the main room. The type of people who are interested in what we do are interested in coming to something that's a bit unconventional.
"When we came to do something at the Glue Factory it was imperative that it was Glasgow centric. We tried to think about what New Year's means to people in Glasgow - which is a three day experience for a lot of people.
"Last year we opened early and we had the event running but it's all about the bells, we had a big production around that and try and celebrate it."
Optimo will be joined by Auntie Flo who will be performing live in the main room before hitting the decks in the bar area alongside DJ Hushpuppy.
Earlier in December the duo marked their 15th anniversary with a birthday party at their spiritual home, Sub Club.
The Jamaica Street club was the venue for Optimo (Espacio) a weekly night running every Sunday from 1997 until March 2010 with Wilkes and Twitch as resident DJs.
Founded by Keith McIvor (Twitch) and Jonnie as an alternative club night, the DJs have gone on to establish their own record label Optimo Music, toured all over the world, but they still return to Sub Club every few months for a big homecoming celebration.
Jonnie said: "The music itself we felt was heading into a corner it was becoming more and more male orientated, there was an aggressive atmosphere in clubs, women were intimidated to go to clubs and everything was becoming not so much fun. It was really important for us to try and do something, no matter how small, to make the experience of going to a club fun again and to bring a live music element to it.
"We didn't have a watertight battle plan, we didn't know it was going to be successful. It was through the encouragement of the Sub Club that it really turned into something. It's such an important institution in Glasgow, there's only a few independent venues like that supporting underground music."
Jonnie added: "Since 2010 we've travelled abroad most weekends, but I have to say, every time we're doing an interview somewhere for a blog, website, publication or radio and people say, where's the best place in the world to play - the answer to that question was always Glasgow.
"We thought, we don't really play there anymore so we have to go back and still have a regular party again in Glasgow and it's been great because it's the best crowd in the world without a doubt."
Tickets for the Optimo Hogmanay at the Glue Factory priced at £20 are on sale from the Tickets Scotland website.