Celtic apologise for poppy banner protest
Club says it will ban those who unfurled banner at Saturday's match against Aberdeen.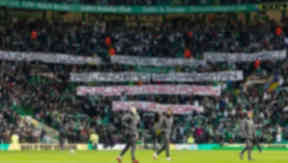 Celtic bosses have warned fans who unfurled a banner protesting against the wearing of poppies that they will be banned from the club's ground.
The club said an inquiry was under way and apologised for offence caused.
A banner that read: "Your deeds would shame all the devils in hell, Ireland Iraq Afghanistan No blodstained poppy on our hoops" was unveiled by a minority of fans during the club's 9-0 victory over Aberdeen at the weekend.
The banner, which was spelt incorrectly, is understood to have been unfurled by a section of Celtic's support who call themselves The Green Brigade. They attend all of the club's games and have been recognised in the past as helping generate an atmosphere inside Celtic Park.
A statement released on Celtic's website on Monday said: "Celtic fans have rightly earned a magnificent reputation for their positive behaviour and backing of the club. It is extremely disappointing that the actions of a small minority have embarrassed Celtic and tarnished the club in this way.
"The club is currently carrying out an investigation into this matter. When it is concluded, it is the Club's intention to ban those identified as responsible from Celtic Park."
The line 'your deeds would shame all the devils of hell' is thought to be a reference to the song 'James Connolly', written in commemoration of the Edinburgh-born Socialist who was one of the leaders of the Easter Rising. He was executed by a British Army firing squad in 1916.
The incident has caused vociferous debate on fans forums used by Celtic fans, with many supporters expressing concern over the incident.
It has also been debated on the forums of other Scottish and English clubs.