Former Rangers chairman: Selling to Craig Whyte 'a heinous offence'
Alastair Johnston says there are still questions over events that led to club's administration.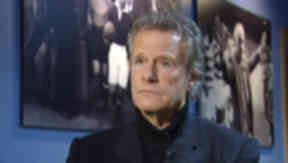 A former chairman of Rangers has branded Sir David Murray's decision to sell the club to Craig Whyte "a heinous offence".
Alastair Johnston told STV News there were outstanding questions about the events which led up to the Ibrox side going into administration in February.
Mr Johnston was chairman of the club from August 2009 until May 2011, when Sir David sold the club to Mr Whyte for £1.
He told STV News that the sale was "somewhat controversial between myself and Sir David."
He continued: "I think he's done a wonderful job over the years for Rangers Football Club. That he sold the club to Craig Whyte for £1 and let somebody who's addicted to lying and cheating – and, candidly, was a chancer – into the cockpit in the left seat, as they say in aviation terms, was, in my mind, a heinous offence."
Sir David has previously insisted he was "duped" by Mr Whyte. He said in March: "I was primarily duped. My advisers were duped, the bank was duped, the shareholders were duped. We've all been duped. Is duped the right word? Duped is the right word.
"It does not look good for Craig Whyte. I deeply, deeply regret selling the club to Craig Whyte. And if the information had been available to me at the time I wouldn't have done it. I did it in good faith.
"And I can only apologise. I wish I'd never done the deal with Craig Whyte."
However, Mr Johnston also laid some of the blame with bank Lloyds TSB and creditors Ticketus, adding: "I do think that Lloyds had some responsibility for this. I think others – Ticketus – were facilitators for Mr Whyte and should have known better. Obviously it's public knowledge now that the source of funding was something that any bank doing its due diligence should have known."
Mr Johnston has invested in the Rangers Supporters Trust scheme, saying it was important to distinguish between fans and supporters.
He explained: "I did that as much as anything else as a sense of symbolism. I've made the point of distinguishing that there's a lot of Rangers fans but, in the last year or two years, there's been a lot of Rangers supporters."