John Barrowman to return to pantomime role after horse fall
Glasgow-born actor 'well enough to perform' again after being bucked by panto horse.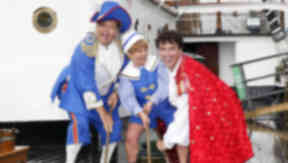 Actor John Barrowman will return to the stage on Saturday after injuring himself in a fall from a horse during a panto performance.
The 45-year-old Scot had complained of back pain during the matinee performance of Jack and the Beanstalk on Friday at the Scottish Exhibition and Conference Centre (SECC).
It is believed he had mounted the live horse in the production, before it bucked him off.
Speaking to STV News on Saturday morning, Mr Barrowman's agent Adrian Lesurf said: "I can confirm John will be performing as Jack today."
Asked if the Glasgow-born performer had made a full recovery, Mr Lesurf said: "He is certainly well enough to perform."
Mr Barrowman had told the SECC crowd on Friday that he was not feeling well and that the horse had been "spooked" during the show. He then left the stage and the panto was postponed for 40 minutes before his understudy took over.
Mr Barrowman has been taken to the Western Infirmary in Glasgow after the incident.
At the end of the show on Friday, a member of the cast told the audience that Mr Barrowman had "no broken bones, just bruises".
The actor, who grew up in America, is due to end his run in the show on Sunday, after it started on December 15.
Mr Barrowman, who has previously starred in Doctor Who and Torchwood, is appearing alongside the Krankies in the panto.