Shortlisted designs for controversial George Square revamp revealed
Judging panel will select winner of controversial £15m reconstruction project in nine days' time.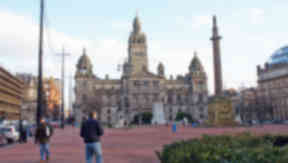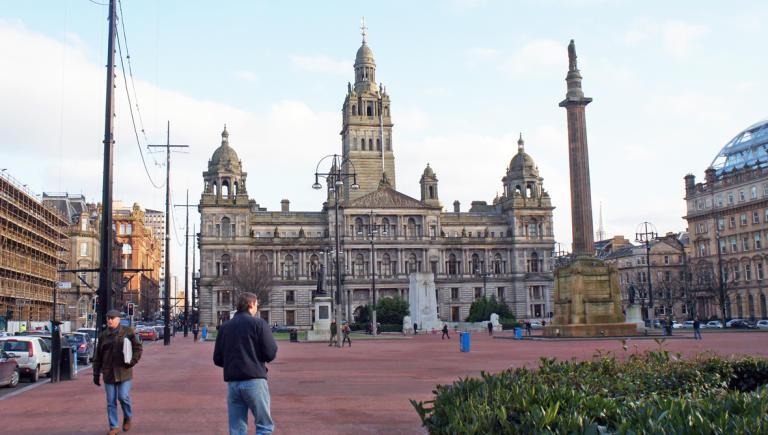 The six shortlisted designs for the controversial £15m George Square revamp went on public display in Glasgow on Wednesday.
A judging panel, which has whittled the 35 submissions for the redevelopment project from as far afield as Australia and the USA down to half a dozen, will announce the winning design on Friday January 18.
The civic square, which is named after King George III and was laid out in 1781, boasts an important collection of statues and monuments which will shortly be removed ahead of the revamp - and in the face of public criticism as there is no firm plans for their future.
The shortlisted plans, which were submitted by France's Agence Ter, British firms Burns + Nice, Gustafson Porter, jmarchitects, John McAslan & Partners and American firm James Corner Field Operations, are on show at The Lighthouse in the city's Mitchell Lane from 10.30pm to 5pm Monday to Saturday and from 12pm-5pm on Sundays.
Councillor Gordon Matheson, leader of Glasgow City Council, said: "The calibre of the six designs is very high and I'm sure whichever design team is chosen, Glaswegians will have a George Square to be proud of again.
"Each bidder has a wealth of international experience and all six have delivered a number of eye-catching civic spaces acclaimed by their peers and public alike.
"This redevelopment is a hugely exciting moment in the growth of the city as Glasgow strives to forge ahead and meet its future challenges.
"The prestige of the companies competing to redevelop George Square is a clear indication of just how iconic it is around the world.
"It is absolutely essential we choose the right team to create a new George Square – a George Square fit for the 21st century. I look forward to working closely with the winning design team to develop their design and give the people and businesses of Glasgow the George Square they deserve."
Green MSP Patrick Harvie condemned the lack of public consultation on the redevelopment plans, with members of the public having just nine days view the designs and make their opinions known.
"I look forward to seeing the various designs, but I fear the people of Glasgow are facing a lose-lose situation," said the MSP.
"The consultation process to date has been shoddy, offering very little opportunity for members of the public to have their say on what they want from their square.
"As a result, we can have no confidence that any of the proposals are in keeping with the wishes of the city's residents.
"This is just another tick box exercise from a Labour administration that seems to have pitifully little interest in the views of the people they purport to represent."
The judging panel comprises David Mackay of MBM Architects Barcelona, former head of Glasgow School of Art's Mackintosh School of Architecture Professor Andy McMillan and their former head of Environmental Art David Harding, DF Concerts director Geoff Ellis and Councillor Matheson along with technical advisor Neil Baxter, who is secretary and treasurer of the Royal Incorporation of Architects in Scotland.
Redevelopment work on the square will be carried out in two stages, with the first being finished before the Glasgow 2014 Commonwealth Games.
Funding of up to £5m from Glasgow City Council's overall investment programme will pay for the first phase of the revamp, with a further £10m of funding expected to come from the Buchanan Quarter TIF Business Case.
The six anonymous entries are illustrated below:
Entry One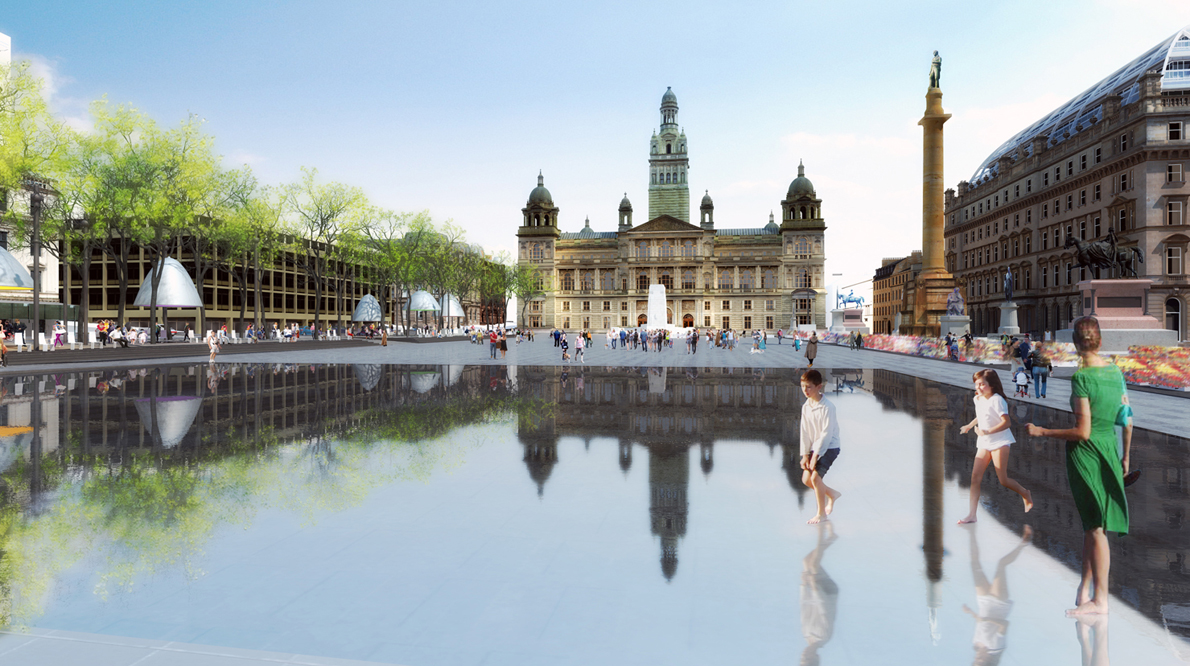 Entry Two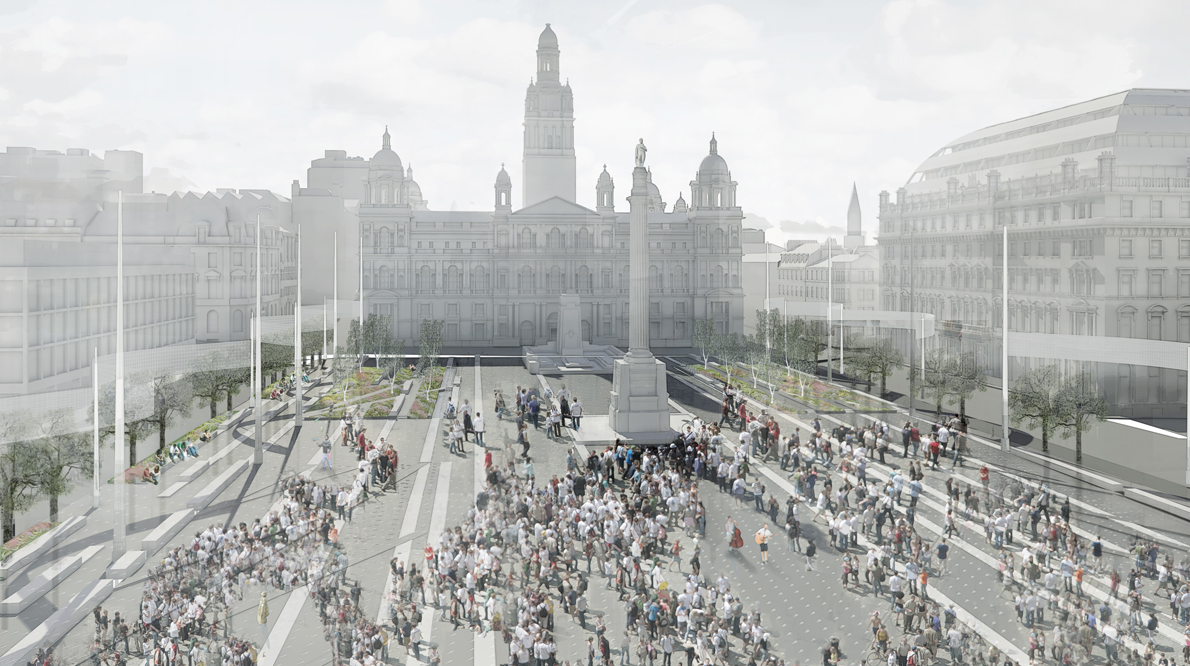 Entry Three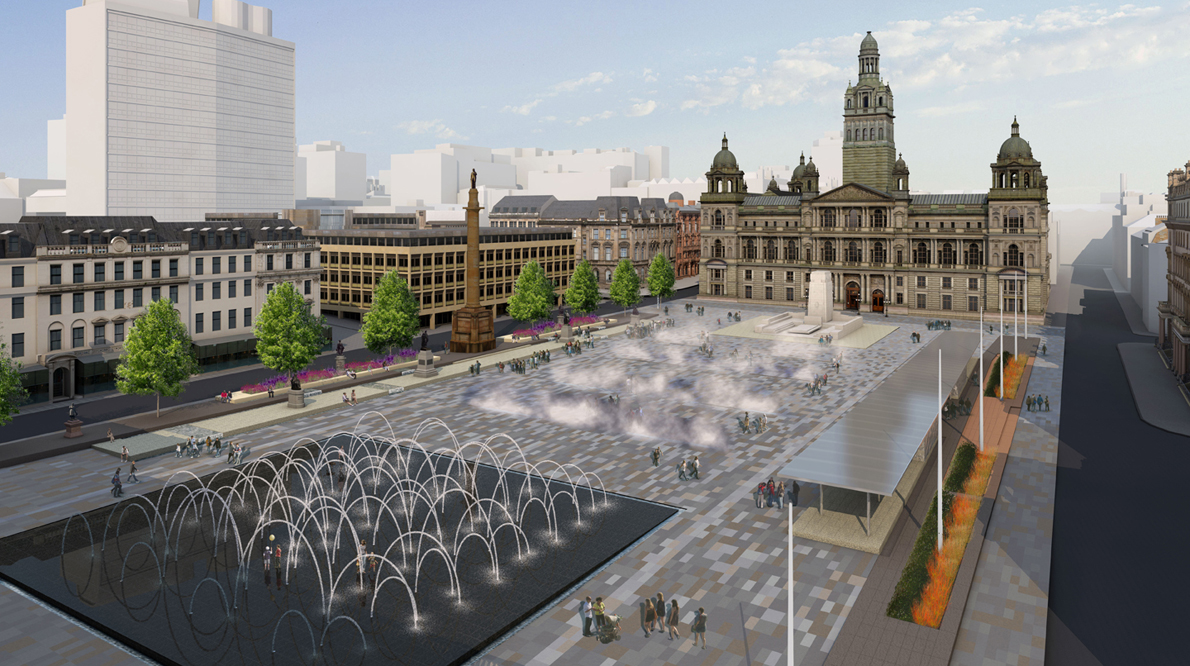 Entry Four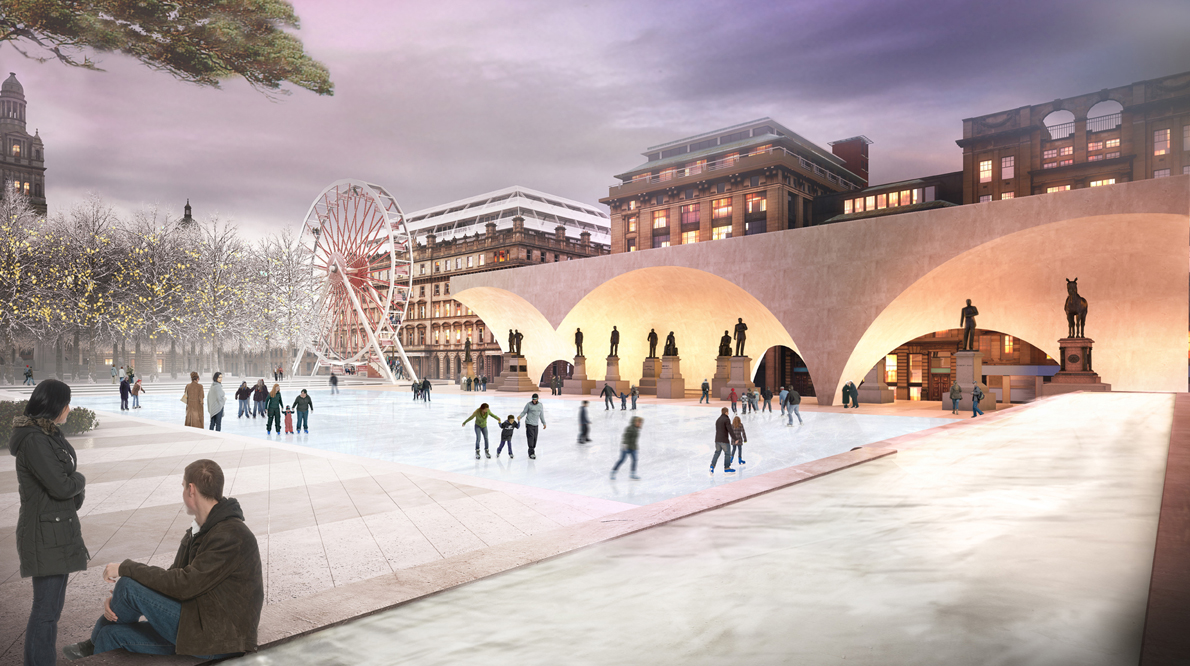 Entry Five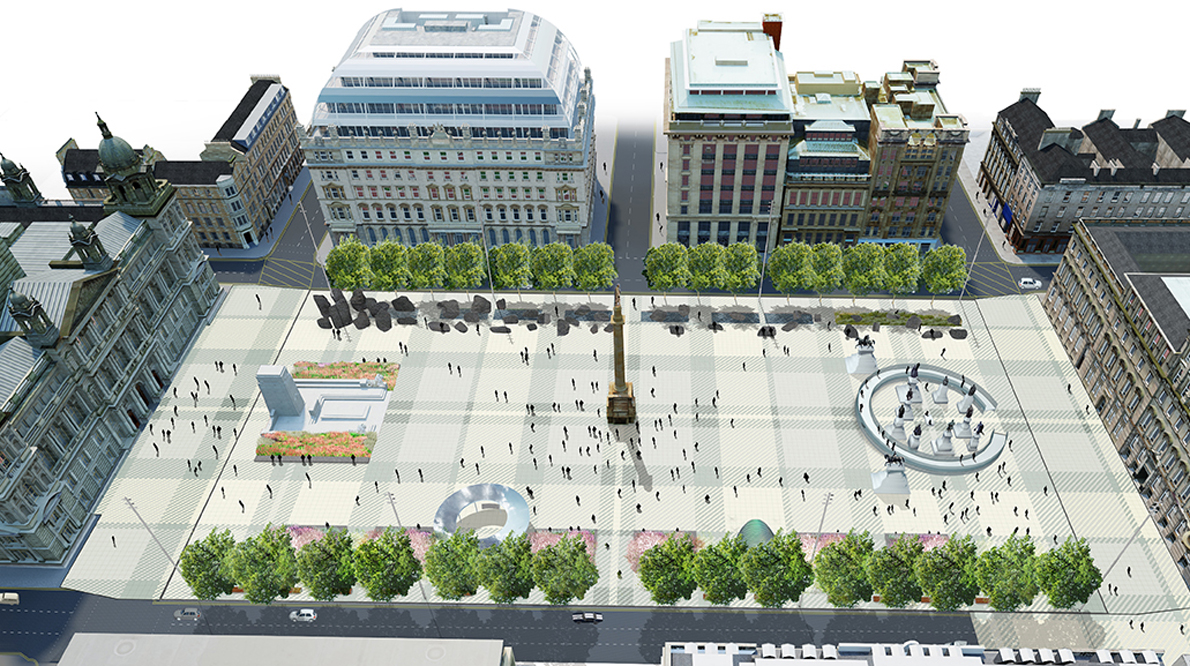 Entry Six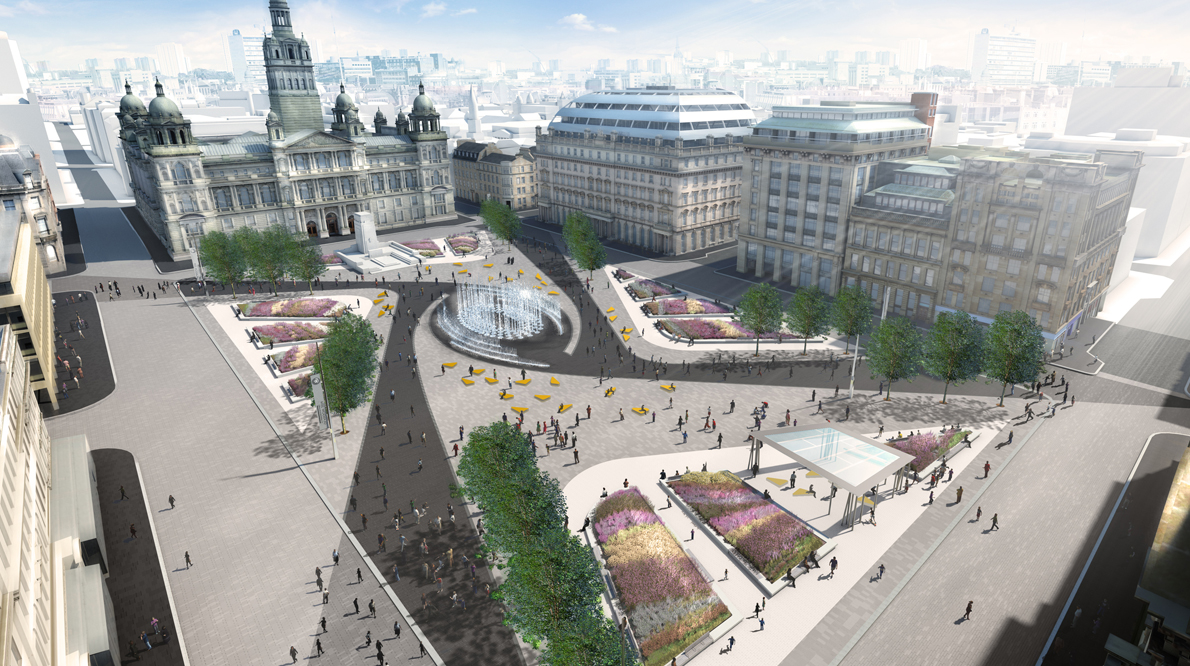 Details of the six finalists
Agence Ter has an international reputation for innovative and creative public realm landscape and urban designs, including major international projects such as Les Halles in Paris.
Part of the design team will be Hengehan Peng architects, which was founded by Shih-Fu Peng and Roisin Heneghan in New York in 1999 and has collaborated with many leading designers and engineers on a wide range of international projects including the Grand Egyptian Museum, the Central Park Bridges at the 2012 Olympic Park, the Giant's Causeway visitor centre and a library and School of Architecture for the University of Greenwich, London.
Burns+Nice is a landscape architect and urban design firm responsible for many recent public realm works including Leicester Square in London, the Millennium Quarter in St Helier and a series of new public spaces in and around London such as St Martins Courtyard in Covent Garden, the new precinct outside the Old Baillie and Bow Courtyard. It is currently working on a similar project for Omonoia Square in Athens.
Gustafson Porter works mainly in the public realm. It has designed and delivered award-winning projects at many scales, from memorial fountains to squares, gardens and parks in the UK and abroad. These include the Old Market Square in Nottingham, completed in 2007, Woolwich Squares in London, Westergasfabriek Culture Park in Amsterdam, Parco CityLife in Milan and Shoreline Walk in Beirut.
James Corner Field Operations is an award-winning New York firm of landscape architects and urban designers who will lead a team which includes local architects Gillespies, Make Architects, Buro Happold and Speirs & Major.
Projects by JCFO include the design of the High Line in New York City, London's Queen Elizabeth Olympic Park, a redevelopment of Earl's Court, Chicago's historic Navy Pier, a new waterfront city for Shenzhen in China, a masterplan for Seattle's Central Waterfront, The Race Street Pier in Philadelphia and the design of the Civic Center Parks in Santa Monica.
JM Architects is an award-winning architecture firm with offices in Glasgow. It leads a multidiscipline team which includes Edinburgh-based Graeme Massie Architects. The team has experience in delivering innovative and robust architectural and landscape projects. Recent work includes Glasgow School of Art, Hillhead Primary School and the redevelopment of Bonn Square in Oxford.
John McAslan and Partners is a multi-award winning architecture, urban design and landscape design practice. It has experience in delivering multi-discipline projects including the redevelopment of the Grade I listed King's Cross Station which included significant public realm and infrastructure. It was a design architect of the Stanislavsky Factory development — a mix of reusing of historic buildings tied together with a new landscape design in Moscow.
IN DETAIL