George Square redesign plans axed following public outcry
Gordon Matheson announced that George Square will undergo a "facelift" instead.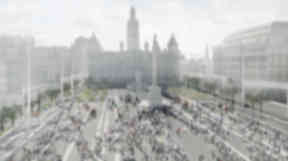 It has been shrouded in controversy since the very beginning.
Now after attracting interest from architects from around the globe, causing uproar across the city when the final six shortlisted designs were unveiled and a split panel who delayed on making a final decision - the planned high profile redesign of George Square has been axed in favour of a facelift.
The jury met at 2pm on Monday and it was revealed around two and a half hours later that none of the submitted designs would be chosen.
Instead "people power" won over and the square's new facelift will include retaining the statues, grassed areas and replacing the red tarmac.
The jury did opt for design number two – by John McAslan & Partners (UK) – which included fountains and pop-up cafes to "optimise the event space".
But Glasgow City Council leader, and jury member, Gordon Matheson announced that none of the designs will be chosen.
Details of the full facelift will be announced at a later date.
Councillor Matheson said: "The people of Glasgow have made it clear that they do not want a radical redesign of the square.
"They want the square to look better and be a place of which they can be proud – a place they can while away a sunny afternoon or get together and celebrate the big occasions in the life of the city.
"They also want us to keep the statues where they are, and they like the grass. However, they clearly want rid of the red tarmac.
"I am proud to say that I am listening to them."
As soon as the six designs were released earlier in January, the majority of public opinion seemed to opt for an option seven – where George Square is returned to its former grassy glory.
It now seems that the voice of the public has been heard.
A spokesman from the campaign group Restore George Square was delighted at the news on Monday.
He said: "We are relieved at the announcement made by Glasgow City Council today. Common sense has prevailed.
"We will now be campaigning for full restoration of the greenspace removed in 1998 and assurances of a reduction, or better still, elimination of the marquee and portaloo type events in the square that continue to be a blight on our historic public space.
"Serious questions need to be answered as to how this situation has arisen, and of who has been involved in the process."
And many other Glaswegians took to Twitter to reveal their thoughts.
Most were in favour of the U-turn:
Really glad all these ridiculous plans for George square have been scrapped.

— Ginger Bear (@Yaco1872) January 21, 2013
Great to see Glasgow City Council have fluffed yet another international design competition. Jolly well done.m.local.stv.tv/glasgow/news/2…

— Chambreros (@Chambreros) January 21, 2013
So it looks like @glasgowcc have scrapped the George Square redesign. Well done. First time I've ever praised the GCC.

— Colin McKinlay (@ColinMcKinlay) January 21, 2013
I'm wondering if @glasgowcc are going to replace the tarmac with a *slightly different* shade of red, like they did last time #georgesquare

— David Bennett (@davidfuzzylime) January 21, 2013
Yaaaas, apparently George Square is no longer being totally redesigned!

— Joanna Sutherland (@chorijo) January 21, 2013
And many were happy that "people power" prevailed:
Why I love Glasgow, the people spoke, they thought about it and then did a u-turn on the George Square redevelopment. bit.ly/YiQ4TP

— Jennifer Jones (@jennifermjones) January 21, 2013
Power to the People! @glasgowcc relent and agree to bin the George Square redesign and go for a 'substantial facelift instead.

— Frazer Munro (@captainbullus) January 21, 2013
They listened to us! George Square to undergo "substantial facelift rather than a radical redesign" leader announces bit.ly/10Mm3NV"

— Debbie Lochran (@DebsLochran) January 21, 2013
Some took to Twitter to ask questions of the consultation process:
@stvglasgow @glasgowcc Inclusive consultation should be done BEFORE decisions are made, not lip service afterwards... #georgesquare

— oooh shiny things (@Dreadful_Penny) January 21, 2013
While others felt a bigger change is needed:
Can't believe they are keeping the statues in George square! Throw them in the Clyde! #eyesore

— Aimee McDonald (@aimee_mcdonaldx) January 21, 2013
What do you think about the decision to axe the George Square redesign? Let us know through Twitter @STVGlasgow, Facebook and email.