Unison protest calls for Glasgow City Council to scrap disability cuts
Carers, service users and disability rights campaigners rallied at City Chambers to say 'no' to cuts and day centre closures.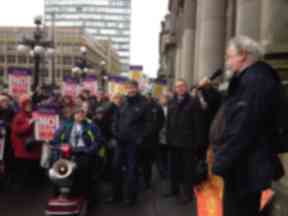 Carers, disability rights campaigners and unionists rallied outside Glasgow City Chambers on Wednesday to protest against proposed council cuts.
Hoisting their Unison placards emblazoned with demands to scrap learning disability service cuts, the assembled crowd of service users, carers and their supporters braved the Glasgow cold to make their voices heard.
Speakers such as carer Grace Harrigan and Ian Hood of Learning Disability Alliance Scotland gave emotive speeches at the steps of the City Chambers, calling for Glasgow City Council to protect its vulnerable and abandon plans to slash funding.
Author, artist and long-standing supporter of the anti-disability cuts campaign Alasdair Gray also took to the podium to lend his voice to the rally, his impassioned words met with uproarious applause from the audience.
The council's proposed closure of three disability day care centres in Berryknowes in Cardonald, Summerston and Hinshaw Street, announced in November 2012, stand to affect hundreds of Glasgow families caring for vulnerable relatives.
Four day centres will remain open in the city, but the number of people able to use the service would be drastically reduced in the reforms.
Axing the services would leave approximately 320 current service users without access to day care centres, as proposed cuts will reduce user numbers from 520 to 200. The 200 remaining service users would be those assessed to have the most complex needs, with the council recommending that the remaining 320 be supported within the community.
There are 55,000 people in Glasgow's carers community and the campaign against cuts has been supported by high-profile local celebrities and academics such as Scots Makar Liz Lochhead and Booker prize-winner James Kelman.
Glasgow City Council's vote on the plans, initially schedule for Thursday January 24, has been postponed until March to allow for further consultation.
Protesters chose to bring their campaign to the council's doorstep on January 23, the day before the deciding vote was due to be cast and the day the council's Learning Disabilities Day Services Reform Group meeting took place to discuss the cuts.
Tommy Gorman, who cares for 23-year-old daughter Patsy, adamantly opposes the proposed cuts to Glasgow's day care services.
"I'm involved because, as a family, we are affected," said Tommy, who also made a speech at the event.
"The services Patsy receives from the daycentre, if the council has their way they will be taken away from her, as will the friendships she has with people at the service and the support of the well-trained and committed staff within the day centres.
"These are hubs of activity where Patsy and other adults with learning disabilities go and they make friendships, there's security, it gives them some structure in their lives."
One of the main issues opposed by protestors at the rally is the consultation method adopted by Glasgow City Council, as many believe that they have not been able to offer their opinions or any alternatives to the council's plans.
Campaigners are calling for an independent review of the city's learning disability services, a halt to cuts while the review takes place and an open Glasgow-wide meeting for all carers to put forth their views.
They also hope to increase the money available to disability services to make individual personalised budgets higher.
"Not all disabled people have the same needs and aspirations," said Evelyn McIver, who cares for profoundly disabled daughter Junie, 44.
"My daughter needs two-to-one support, she needs to be out in the community. She needs changing places for her.
"She's very limited just now in what she can do, she's lost a lot of things over the years.
"They keep telling me my daughter is lucky because she will be one of the 200, because she's so disabled. I want better care for my daughter than that and the council can give better.
"The ideal outcome for today would be the council to sit down and say scrub the lot, let's start again but this time we're going to take carers and service users as the main focus of the consultation and try and work out what they want and need, not what a council officer in the finance department says we can get.
"We are all citizens of Glasgow, my daughter included."
Sam Macartney, Convener of Daycare Services at Glasgow's Unison branch rejects plans for disability funding cuts and has welcomed the appointment of Dr Chris Mason as Carer's Champion, an ex councillor who is now representing the carer's community.
"Vulnerable people in Glasgow will suffer," said Sam.
"People are well aware that these cuts are not about a better service, these cuts are down to austerity, the fact that vulnerable people are now suffering because of the acts of others.
"This is why they are asking for an independent review, as is Chris Mason the Carer's Champion, who is responsible for the vulnerable people of Glasgow. We need a proper consultation with all the caring groups in Glasgow."
Sam encourages members of the public to support the Defend Glasgow Services campaign to show support in the protection of council services.
"We want to see the council stop any potential cuts," said Sam.
"To put everything on hold until a proper assessment is carried out and instead of basing an assessment on funds and money they base it on an assessment of care and needs."
A spokesperson for Glasgow City Council said of the vote postponement: "The Learning Disabilities Day Services Reform group met on Wednesday 23 and heard a wide range of views, including those of carers and service users.
"It was a constructive meeting and the opinions aired will be included as part of the consultation response to proposals to reform the council's learning disabilities day services.
"A decision on the proposals is expected to taken in March this year."