Hive buzzing for last hurrah before doors close for refurbishment
Glasgow University Union's nightclub The Hive is about to close its doors, before being knocked down to make way for a brand new nightclub in 2014.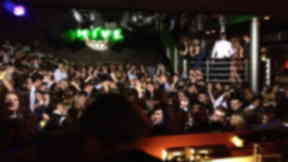 Its sticky floors, dirty pints and ten hour parties make up blurred memories for West End students and alumni.
Glasgow University Union's (GUU) nightclub has been central to West End student life in recent decades, through its early 90s' days as The Club and its rebirth under the bumblebee Hive rebrand.
The building is scheduled for a £13.4 million redevelopment which won't stop at giving the tired club a facelift, but will knock it completely to the ground and start again from scratch.
The existing GUU extension on Gibson Street will be demolished, reducing the Hive to rubble to make way for a brand new, five-storey structure connecting the GUU to the Sports and Recreation building.
Hive fans, both current students and university alumni, are now getting ready for a last hurrah in the building on January 31 before it's torn down.
Hundreds of hopeful guests queued around the block to stand a chance of getting a Last Ever Hive ticket on January 24, but all 1300 tickets were sold within two hours, leaving many disappointed.
Meanwhile, Glasgow University alumni are flying in from across Europe to attend the Old Foguu Extravaganza on Saturday 26, a Hive event suited for nostalgic ex-students and Glasgow's Peter Pans still revelling in their student days.
"Students don't necessarily come to the union for the surroundings," said David Lockhart, GUU President.
"They come because their friends are there, because other students are there, because the place is so ingrained in Glasgow University culture.
"The Hive isn't a modern nightclub. People love it and it's served its life span well, but we need to modernise it."
The extension was originally built in the 1960s to house university lecture theatres, but was soon found to be surplus to requirements and leased to the GUU as a club until plans for renovation were announced in 2012.
Davinder Bedi, 42, one of the current GUU vice presidents and trustees, was part of the team that transformed The Club into The Hive. The former Glasgow University student welcomes the lastest make-over of the club space.
"The Hive was The Club and Deep Six was The Lounge Bar," recalled Davinder of the club before its 90s' rebrand.
"Good times were had but it was past its sell by date. We still had a glitter ball, for crying out loud.
"That was in 1992, and we were very much masters of our own destiny back then, as the whole thing had to be funded by loans that we paid back.
"The Club was dark, pokey, it was a different thing all together. When we opened the new Hive it had high ceilings, that gantry– what a feature! The sound system and lights were great.
"When we had to come up with a new name in 1992 I was vehemently against calling it The Hive. I foresaw people calling it the dive, the marketing was a bumblebee. I wasn't for it. How wrong I was! It's such a strong brand now and we won't be changing it – if it's not broke don't fix it."
Demolition is due to commence in February and there's expected to be a gaping hole in the lives of Hive fans, and in Gibson Street, until the club is ready for Freshers' Week September 2014.
GUU members can be consoled in the fact that the Debates Chamber will be transformed into Thursday's club venue while the extension is under construction.
The GUU board members will work with architects to design the club to suit the needs of the student body.
"We've been adamant from day one that it's designed by students for students," said David Lockhart.
"People are very attached to the podium, that's the main question I've been asked so far is whether the podium will be in the new club, and the answer is yes.
"We love the Hive, we'll miss it, but we need a nightclub that's built to be a nightclub."
Here's what Glasgow remembers of the Hive:
@stvglasgow can't believe it's the last ever #HIVE. Too many memories. One that sticks with me - vodka was putrid but nobody cared! #GUU

— Louise Welsh (@xluwelshx) January 24, 2013
@stvglasgow @guunion pints of fun

— Martin Goodfellow (@Brikktu) January 24, 2013
@stvglasgow @guunion this makes me emotional...The hive will live forever in our hearts and minds (and shoes - hive scum never comes out) :)

— Catriona Headley (@Cat_Headley) January 24, 2013
@stvglasgow @guunion pints of fun, feet sticking to the floor, side ponytails and dancing like a loon.

— Mairead Macleod (@MaireadMacleod) January 24, 2013
Tweet us your Hive memories to @STVGlasgow