Young Scot prepare to recognise the best of Scotland's youth
Young Scot is on the hunt for young people who make you proud to be Scottish for their annual awards ceremony.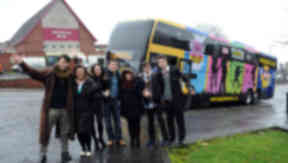 Sitting in their bedrooms throughout the country are Scotland's future decision makers, creative talent and business leaders.
They aren't playing on the X-Box or glued to Facebook, modestly they are working away on the skills that may help steer the prospects of Scotland in years to come.
Quietly they give up their time to make their world around them a better place.
But they don't shout about it.
And so the search for candidates in the 2013 Young Scot Awards begins.
The organisers want to hear about young people who make you proud to be Scottish.
Be it an unsung hero, someone who works tirelessly to improve their community or anyone from the age of 11 to 26 in the public eye who inspires you.
And all you need to do to nominate a local youth for an award is hop on the bus. The Young Scot Awards megabus, that is.
The brightly coloured bus is touring the country from Monday (January 28) and its first stop will be the Sir Chris Hoy Velodrome in Glasgow between noon and 2pm.
Glaswegian Young Scot winners from 2012 include member of the Youth Scottish Parliament for Shettleston David Stewart who picked up the Community Award and Cranhill's Edward Johnstone, who won the Volunteering Award after racking up more than 600 hours of volunteering.
Glasgow girls Lauren Currie and Sarah Drummond were awarded the enterprise accolade for their service design company, Snook, which aiming to make social change happen across Scotland.
Lauren and Sarah, both 25, are based in Glasgow's busy Bath Street and since 2009 have worked with Edinburgh Council, the Scottish Government, the NHS as well as with organisations throughout the world.
The businesswomen will be showing their support for the Young Scot Awards by visiting the bus at the Velodrome.
Lauren said: "We were just delighted to win our award, we are very proud of Scotland – we call ourselves Scotland enthusiasts – so it really meant a lot to us.
"Sarah and I were both 23 when we set Snook up and as much as age isn't important, it can be a lot of the time. So being young and Scottish, it was really special.
"It is a celebration of young people who are Scottish and we really admire the work that Young Scot do and what they stand for as a charity, so we were just keen to be part of that."
Lauren believes that winning the enterprise award helped Snook really focus on their future.
She said: "Since we won, we've grown our team and we now do much more work in the private sector.
"I think when we won that award we were at a turning point if you like – going from a really young organisation in our first year of energy and newness to it being the time for real strategy and defining our business model, building on the success that led to us winning the award.
"We've now got a great relationship with Young Scot and are collaboratively partnering with them to deliver a new service, The Matter, which is all about helping young people become more employable."
So why should people get involved in the Young Scot Awards?
"I think it is important to celebrate the future generation of our country and, for us, it was a lovely excuse to pat ourselves on the back – which doesn't happen very ofen!" said Lauren.
Other gongs up for grabs at the Young Scot Awards are sport, the arts, health, entertainment, environment, cultural diversity, that of heritage hero and unsung hero as well as the Sunday Mail reader's award which recognises a young Scot who has overcome difficult circumstances to triumph.
As well as registering the name of your Young Scot of choice, members of the public can also be winners on board the bus with tickets to the award ceremony in the Clyde Auditorium and iPads up for grabs. This is the first year that the event, which takes place on April 19, is open to members of the public.
Tweeting a picture of the bus to Young Scot if you spot it around Scotland could also win the snapper a prize.
Follow the exact location of the tour bus on Facebook.
Nominations can also be made online.