Diamonds need fight and determination from the first whistle
BLOG: Airdrie FC fan David Hendrie says a lack of leadership on the park is to blame for Diamonds' defeats.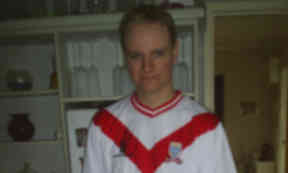 It was yet another disappointing afternoon to be a Diamond last Saturday as Airdrie slumped to a second successive league defeat in a rather action packed match away to Falkirk.
This defeat however, was tinged with an extra sense of desperation as it saw us slip to the foot of the table for the first time this season.
On a freezing cold afternoon at Westfield Airdrie just didn't turn up quickly enough and found themselves on the end of a dismal 3-0 score line within the opening 35 minutes. It was a master class in pass and move football from Falkirk who didn't let up throughout the entire first half, they closed Airdrie players down at every opportunity and looked like the far hungrier side.
The Airdrie team we saw in the second half was a much improved proposition, on the other hand.
Straight after the re-start the Diamonds began passing the ball rather than looking to long balls forward and immediately reaped the rewards with some nice play opening up a gap for Nathan Blockley to shoot. The Diamonds midfielder was denied only by Michael McGovern in the Falkirk goal, something which was to become habit in the 2nd half.
A Paul Di Giacomo penalty pulled Airdrie back into the game but in our desperate search for yet another goal we were often caught short at the back. This was evident when Blockely was clean through on goal and denied by an outstanding save, only for Falkirk to push down the park, win a corner and make it 4-1.
Airdrie, to their credit, once again rallied round and late goals from Willie McLaren and John Boyle almost saw us snatch something from the game. However, in actual fact, it would have been daylight robbery had we managed it.
It begs the question, why did we not put in this level of fight and determination from the first whistle? Why did we not play the style of football that clearly suits us from the word go? These are the issues which continue to plague me week after week, yet I cannot get to the bottom of it.
Some will blame the manager, others will claim that it's due to the players' inexperience, I personally think it's something else. We lack leadership on the park.
As I've been saying for weeks, we are at a crucial stage in our season where we must strengthen our squad. I feel that leadership is a crucial quality which we just don't have in our side this season and we need to try and add some soon.
You can say what you want about older players like ex-Diamond Paul Lovering, but his experience of a relegation dog fight and his ability to organise and motivate on the park has been greatly missed this season. We must try and find someone who fits this bill.
As well as a player who has the necessary leadership skills, I feel that we also need to focus on adding someone who has a real spark of creativity to open up games for us and create chances for our strikers. It could be argued that Jack Boyle, who seems to be getting fitness back, might well be this player. However, with money to spend perhaps this is the perfect opportunity to bring someone else in to strengthen this area of the park.
I often feel that some of our players are scared to take the ball and carry it forward, encouraging others to make runs off the ball. It's crucial in my eyes that we correct this is we are to improve our attacking threat.
Finally, if either of these types of player are unavailable or if we have enough money to spend on yet another new addition, I feel that strengthening our strike force would be of great benefit to our squad in the run in to the end of the season.
Scott Sally has departed the club this week, leaving us with only Ryan Donnelly, John Boyle and Paul Di Giacomo. While these players have all played a crucial part in our season and will continue to do so, we could be doing with a bigger presence that is able to hold the ball up or even win more aerial battles.
These are just some of the possible styles of player that I feel will increase our chances of staying up. While buying players at our level is incredibly difficult, I do have faith that Jimmy Boyle will not rush into any signings unless they will add to our squad.
Due to Scottish Cup matches this weekend, the manager now has over a week to get players back fit, integrate any new additions and think about how best to set up the side for our next match.
In all honesty, a week to gather our thoughts and re-charge the batteries may just be what we need. Here's hoping that we return to action next week ready for the fight.
David Hendrie