Body of Remploy worker discovered on day his factory closed down
George Scollan had worked at the facility in Glasgow's Springburn since 1973.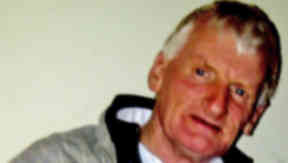 A Remploy worker was found dead on the day his factory closed down.
Disabled grandfather George Scollan had worked at the factory in Glasgow's Springburn since 1973.
The 58-year-old was found dead in a guest house in Firhill Road, Maryhill, at around 10.10am on Thursday.
Mr Scollan, who had mobility issues and learning difficulties, was the leader of a team of oxy-acetylene brazers assembling wheelchairs at the factory.
His ex-wife Margaret Rarity, 48, daughters Clare, 17, and Amanda, 24, were distraught at the news of the death.
Ms Rarity said: "I'm just completely gutted. It's a terrible shock. It's especially hard for the girls.
"We split up last June but it was very friendly and we still saw a lot of each other. I don't think we would have got back together but we were good friends."
The Springburn factory is among the 36 sites across the UK that are being shut as a result of UK Government cost cutting measures.
A Remploy spokesman said: "We are distressed and shocked by the news that one of our long-serving employees at Springburn was tragically found dead at home this morning.
"George was receiving support from Remploy and Jobcentre Plus to help him find another job. We are supporting his work colleagues who have been offered one-to-one meetings with their manager and specialist HR support at the factory.
"Remploy is also organising a session with a trauma counsellor for anyemployees requiring further support at this very difficult time."
A Strathclyde Police spokeswoman said: "A post mortem will take place in due course to establish the exact cause of death however police are not treating the death as suspicious."