Lynda Spence's blood 'was found in flat where she was tortured'
A forensic scientists gave evidence at trial of four men accused of killing finance adviser.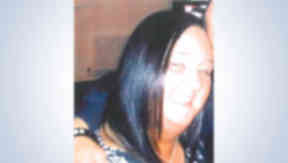 A spot of missing financial Lynda Spence's blood was found at the flat where she was allegedly held and tortured, a murder trial has heard.
The jury at the High Court in Glasgow was told by forensic scientist Dr Nighean Stevenson that the small blood stain found on lino in front of the bath matched the DNA of Ms Spence.
Dr Stevenson was giving evidence at the trial of Colin Coats, 42, David Parker, 38, 47-year-old Paul Smith and Philip Wade, 42, who deny abducting, torturing and murdering Ms Spence at a flat in West Kilbride, North Ayrshire, between April 14 and 28, 2011.
She told Solicitor General Lesley Thomson, prosecuting, that a DNA sample was taken from one of Ms Spence's metal bangles and compared to the blood found in the Meadowfoot Road property on October 28, 2011.
Dr Stevenson said: "A DNA profile was obtained that matched the DNA profile of Lynda Spence. The probability of finding someone else matching that profile is more than one in a million."
"It had a diluted appearance and it had likely been smeared where it was. I couldn't say scientifically why what it had been diluted with." The court was shown a photograph of the blood stain which was beside the bath panel which was broken and pushed in at one side.
Miss Thomson asked: "If the bath panel had been fitted correctly would the blood stain have been visible?" Dr Stevenson replied: "It may have been covered by the bath panel."
The court was told that other blood lifts taken from the bathroom were examined. One came from an unknown male and another from accused Parker, who was the tenant at the flat.
Dr Stevenson said staining on pipes tested positive for blood, but did not look like blood. She added: "It is unlikely to be blood, but we can't rule it out."
The jury in the trial is down to 14. On Wednesday Lord Pentland told the remaining jurors: "Your number has now been reduced from 15 to 14. This is something the law allows the court to do. It is neither necessary nor appropriate to say why this decision has been taken." The trial continues.