Pope Benedict XVI resigns - a look back on his papal visit to Scotland
As news emerges of the resignation of Pope Benedict XVI, we take a look back at his 2010 visit to Scotland.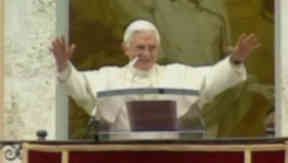 News that Pope Benedict XVI is to resign due to ill health comes as a huge surprise, not least to the many Scots who will recall how the country came to a standstill during his 2010 visit.
Scotland began planning for the visit after it was announced in March that year. It would be the first papal visit to Scotland since 1982, when hundreds of thousands came out to greet Pope John Paul II in Bellahouston Park and Murrayfield Stadium.
Soon after news of Pope Benedict XVI visit to Scotland was confirmed, it emerged that he would also hold a Papal Mass in Bellahouston Park, just like his predecessor.
Official gifts were prepared, and the public were warned of transport disruption.
But despite evidence of public apathy towards his visit – and hostility towards taxpayers footing the bill for the disruption it would cause - on the day of his arrival, Edinburgh pulled out all the stops to welcome the Pope.
As he stepped off the plane in Edinburgh Airport, he was greeted by the Duke of Edinburgh and Cardinal Keith O'Brien, and was whisked into the city centre where thousands of onlookers lined the streets to try to catch a glimpse of him as he travelled along Princes Street towards Holyrood.
There, he went on to meet with The Queen at Holyrood, providing a rare opportunity to see two of the most well known people in the world together in the same place.
From east to west, Scots celebrated, not least in Bellshill where pilgrims were later to reflect on the Papal visit.
However, the highlight of Pope Benedict's visit for many Scots will have been the once-in-a-lifetime experience of hearing his papal address in Bellahouston Park.
Sixty-five thousand Catholics made the pilgrimage to the park greet their spiritual leader. They came from schools and churches all over Scotland, to enjoy an event which many described as genuinely moving and having a "family feel".
Of course, Pope Benedict may XVI may have been top of the bill, but he did enlist a well known local singer in the form of Susan Boyle as his warm-up act.
The Bellahouston Park event will be remembered fondly by many Scots Catholics. As speculation begins already over who might succeed of Pope Benedict XVI, many may wish to watch this full length documentary that STV produced that looks back at his visit to Scotland.
How do you feel about the Pope's resignation? Let us know on Twitter @STVLocal #poperesigns