Gazza may have problems but let's recall his glory days in Scotland
Former English football star is battling for life, but we shouldn't forget his positive aspects or the impact he had on the Scottish game.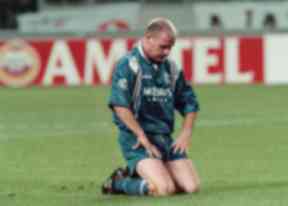 It's easy to be depressed by recent pictures of Paul Gascoigne, which show the former England footballer suffering anew from the ravages of alcoholic excess.
He is a stricken individual, aged 45, coming on 76, apparently hell-bent on checking prematurely out of this world in a similar fashion to George Best and Amy Winehouse.
There has been sympathy for his condition, compassion – and financial assistance - from some of old former buddies, such as Chris Evans, and hypocrisy from several of the media outlets who first hounded Gascoigne and paraded his shambling state, prior to performing a Gazza flip and recalling how this man once lit up his realm.
Yet, what has been mostly absent has been any recognition of why this particular player has generated so many column inches throughout the last two decades.
Of course, his career has been mired in controversy, and nothing excuses the violence he used against his ex-wife Sheryl, even if the feeling persists that Gascoigne was one of those characters, whom, at the height of his powers in the mid-1990s, had a thousand so-called "friends" who were prepared to bleed him dry, then leave him in the gutter.
But what a talent, what a force of nature! Whether strutting in the spotlight at the 1990 World Cup – where the novelist, A S Byatt, described him as "a priapic monolith" – or orchestrating the glorious and – for Scots – heart-breaking goal which sealed England's victory at Euro 1996, Gascoigne was part-comic and part-genius, interspersed with dollops of excusable daftness and unforgivable excess.
We witnessed all these facets when he rolled into Ibrox in the summer of 1995.
Even then, he paraded his naivete in the media glare when declaring how much he was looking forward to "playing for Glasgow", while his handlers anxiously whispered in his ear to start talking about Rangers.
The incident summed up the man; sometimes, whether being interviewed, or working as a TV pundit, he gave the impression of being a chimpanzee who had just become acquainted with bubblegum. But throw him a ball and he could make it do wondrous things.
Most Scots could see that the Geordie boy was a natural heir to Jimmy Johnstone and Jim Baxter. He illustrated his powers by forming a sublime partnership with Brian Laudrup, and was the catalyst for mayhem in tandem with the prolific Ally McCoist.
He revelled to such a degree that it seemed pre-ordained when he scored his first competitive goal against Celtic at Parkhead after latching on to McCoist's pass, whereupon his celebrations were extravagant. On the field, he could write his own scripts.
Thereafter, there was a mesmerising hat-trick against Aberdeen, which secured the Ibrox side their eighth successive championship title.
The first was a testimony to his strength in and around the box; the second was a virtuoso solo effort from within his own half, where he ghosted past a string of would-be defenders as if they were mere wraiths; and the third was a more prosaic penalty, clinically struck.
It was a 90-minute masterclass of artistry and athleticism which explained why Gascoigne, despite his myriad injuries and other problems, amassed 57 England caps.
Naturally, Gazza being Gazza, that wasn't the whole story. Quite apart from the tales of Bacchanalian excess, there was the moment where he brandished a yellow card at referee Dougie Smith, which the official had dropped during an SPL match against Hibs, and was subsequently booked for his cheek, although most supporters were rolling in the aisles.
Less creditably, he reacted to the taunts of Celtic aficionados, amidst the rancorous cauldron of an Old Firm encounter, by mimicking playing the flute – a gesture which he knew carried sectarian connotations in the west of Scotland.
By the end of his three-year sojourn in Scotland, the minuses were stacking up, as the clock, the bottle and creaking joints conspired to diminish Gascoigne, on and off the park.
Pursued by the paparazzi, he sunk into depression and, instead of dealing with it properly, took out his frustration on Sheryl, with shameful consequences, which followed him as he exited Scotland and continued to spiral downwards towards oblivion.
Only time will tell whether there is redemption for the former teary-eyed national treasure. But, as another recovering alcoholic, Jimmy Greaves, has declared, Gascoigne's travails won't cease until he finds some new purpose in life which doesn't revolve around clinging to the past. Ultimately, his future is up to him, and his fate hangs in the balance.
Yet that shouldn't detract from recollections of the arena where was was at ease with himself and in his element; any strip of green turf where he could illuminate the proceedings with exquisite goals, whether against Celtic or Aberdeen, Auxerre or Steaua Bucharest. Or even Scotland, on that wretched Saturday in '96.
Gascoigne might have too many demons to exorcise in his 46th year. But let's not forget he could also be an angelic presence when the mood took him.
For more on Rangers this season, visit the Rangers section of sport.stv.