Woman killed after lorry crashes into flats in Ayrshire village
The A78 through Fairlie was closed on Thursday afternoon as specialist teams searched the property.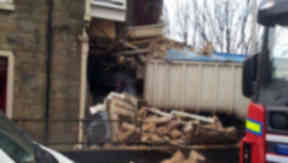 A 55-year-old woman has died after a coal lorry crashed into her home in a North Ayrshire village.
The woman died of her injuries following the collision, which happened on the A78 in Fairlie, near Largs, at about 1.45pm on Thursday.
A 60-year-old man, understood to be the woman's husband, was airlifted to Inverclyde General Hospital in Greenock. The couple lived on the ground floor of a two-storey block of flats.
The driver of the lorry, a 54-year-old man, was taken to the same hospital suffering from internal injuries.
A third man who was in the building was evacuated unhurt.
One wall of the two-storey property was reduced to rubble by the impact of the crash. No other vehicle was involved in the collision.
Strathclyde Police said the accident left the A78 closed in both directions.
A spokesman for Strathclyde Fire and Rescue Service said a specialist urban search and rescue team had been sent to the scene along with support units from Clydebank and Kilmarnock. A specialist ambulance team was also in attendance.
Traffic Scotland said the road was closed between Hunterston roundabout and Largs.
Drivers have been advised to take alternative routes via the B780 and B784.
Eyewitness Steve Graham, chairman of Fairlie Community Council, said: "I walked up and had a look. There was a lorry deeply embedded into the corner of an old Victorian sandstone building.
"My understanding is that there were two people trapped. The last I heard one man got out but they are still looking for his wife.
"It is a coal lorry which for whatever reason has lost control and has ploughed into the house across the road."
He added: "This was an accident waiting to happen. There have been a number of near misses but nothing on this scale. It is a very narrow road with premises adjacent to the road.
"We in the community council have been complaining about the weight of traffic coming through the A78 which it's not built for. It would not meet current standards for a trunk road."
Your report: If you have information on this or any other story, please let us know. You can send information, pictures to web@stv.tv or call us on 0141 300 3264.