No horsing around as Khublai Khans adds horsemeat burgers to the menu
The Mongolian eatery is offering horsemeat burgers and including horse on the barbecue grill in the wake of the crisis.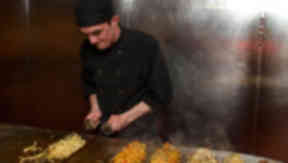 It's a scandal that has put supermarkets and food manufacturers in the spotlight for all the wrong reasons.
While many shoppers have been worrying about where to find 100% beef in the city the big question is where can you sample 100% horsemeat?
Mongolian restaurant Khublai Khans in the Merchant City has added horsemeat burgers to the menu for February.
The eatery, which offers at least 14 meats ranging from springbok to zebra at any one time, had originally chosen horse as the meat of the month for January.
But after horse DNA was found in beef frozen meals last month, the horsemeat offers were extended at Khublai Khans due to popular demand.
The eatery's owner Andrew McRobbie explained: "We have a meat of the month and we had horse scheduled back in December to feature in January so after New Year we had it there and then all this kicked off so we jumped on the bandwagon and decided to poke a bit of fun at it.
"We have got horse meat in our barbecue buffet but we're also offering a horsemeat gourmet burger. It's been quite popular with people - they are wanting to try it now they know what they are getting.
"The whole idea is quite amazing that they have been eating it for years and they didn't know about it but they've actually found the horse to be quite nice and tender."
The restaurant, which has been offering alternative meats to Glaswegians for 15 years, is now looking to make horsemeat a permanent fixture on the menu.
Andrew added: "People are pleasnantly surprised. We hadn't had horsemeat on the menu before and we decided to keep it on until February because of the frenzy.
"If the demand is there then I'm quite happy to have it on the menu.
"I think the real scandal is not that people are eating it but that people are eating it and they don't know that they are. I personally don't think there's any problem in eating horse it's a very nice meat - using it as a substitute is a problem."
For more information go to the Khublai Khan Glasgow website.