Fake Major rise from the ashes for new music video Little Researcher
Following the split of Endor David McGinty and Richard Ferguson have re-emerged as Fake Major with gigs at Glasgow's Broadcast and Bloc.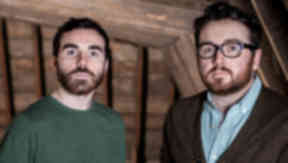 They say when one door closes another one opens. The same can be said for bands.
Fake Major is the band that's risen from the ashes of Glasgow four-piece Endor who after ten years together called it a day in 2012.
David McGinty and Richard Ferguson's project has attracted plenty of buzz thanks to the release of their first single Little Researcher on independent label, Comets and Cartwheels.
It's been a whirlwind few months writing and recording in the wake of Endor's demise.
Richard explained: "The great thing is we're just so excited about it. After we've been away for a few months it's fun to be back out there playing gigs and we're keen to get to as many as possible.
"We wanted to just write songs that we could play as just the two of us and bring in more instruments for the recording. But we can strip it back to just two vocals and one guitar.
"This gives us much more freedom but there is a downside in that when you've got more people in the band there's more people who can tell you when you're going down the wrong path.
"Working with Paul and Vicki from Comets and Cartwheels it's almost like we've got extra members of the band. They've been great, they are doing a lot of things for us that people who are in bands don't like doing."
The duo paired up with Jolene and Richard Crawford of Precious Productions for debut music video The Little Researcher.
The end result is quirky three and a half minute video of a young stethoscope-carrying child inquisitively finding out about the world with appearances from David and Richard performing in the shop window.
The Little Researcher herself is played by the filmmakers' eldest daughter Ruby.
Richard said: "We've worked with Precious Productions before and it just came about by coincidence. We were thinking that we wanted a child to be the Little Researcher, to see things from their perspective and then we realised that Ruby would be perfect for it.
"She's a very interesting child that's into incredibly different things so we had her bounding about looking at things. She's a star in the making.
"We wanted to launch the band back to back with the video. We are really proud of it and Little Researcher sends out a statement of what we are trying to do with the dual vocals and lots of harmonies. People will find the EP different to what we've done previously - it's an evolved sound."
While the musicians are well-known in Glasgow's music scene – David's vocals featured on Snow Patrol's 2006 album Eyes Open, Fake Major is still very much in its infancy.
The band only launched to the online world in February and since then has featured on Radio Scotland and supported Michael Cassidy in Dundee.
There's a chance to catch the band supporting Christopher Owens at Broadcast Tuesday, February 26 and again at Bloc on March 27.
The set at the Brew at the Bog Festival on May 4 marks exactly one year since Endor's last gig together.
Richard said: "David and I were the main songwriters in Endor. Like a lot of other bands it was started by a group of friends when they were young and we all went on to different things - one is living in Denmark and the other is in Cambodia, so it came to a natural end.
"We were making music for ten years and wanted to do do something different. David and I are good friends and spend a lot of time writing with each other so it made sense for us to try our own thing, and explore what we could do with Fake Major."
For more information go to the Fake Major Facebook, Soundcloud or website.