Scots polar explorer inspires next generation of adventurers
Ahead of his Greenland trek, Scotland's 'greatest ever living explorer' Craig Mathieson meets Hillhead High School pupils and lets them hear tales of his arctic adventures.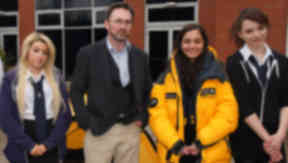 Few men can say that they have journeyed to both the North and the South Pole and lived to tell the tale.
Polar explorer Craig Mathieson led the first Scottish expedition to the South Pole in 2004. Not only did he survive, Craig hauled his 160lb sledge 730 miles across the Antarctic in just 56 days.
When his severe hunger caused him physical pain he dreamt of Christmas dinner and kept going. When his body screamed out in agony from hours of skiing he thought of his children and pushed through.
And when he ripped the ligaments in his knee he "duck taped them up" and ploughed on.
Who better to inspire Glasgow pupils and to encourage them to take on the challenge of their dreams?
The accountant by day arrived at Hillhead High for an afternoon with the west end school's senior students.
For three hours the teenage audience fell silent as he regailed them with stories straight from Boys' Own Adventures - scaring away polar bears with pots and pans, worrying not about horsemeat but dining on seal and dropping off letters to Santa at the North Pole.
The pupils sat mesmerised until the moment they got their chance to ask Craig their own questions.
A group of 14 from the school's S4 members of the Prince's Trust xl club - a personal development programme aimed at those at risk of underachievement or exclusion from school - grilled the Paisley born adventurer.
The questions kept coming as Craig explained how to survive arctic temperatures and revealed gory details about having to cut off part of his own foot.
Craig said: "They had brilliant questions today. I've never been to a school where it hasn't gone well.
"I much prefer coming into schools like this. I get called into private schools and they don't get it so much.
"I don't see it as motivational speaking at all – I call myself a storyteller and I say to the kids, get out of it what you want.
"Some people do get inspired, some people just like the story. It is one of those things that I just love doing.
"Any school that asks I always find a way to do it. It is my passion.
"I could see their eyes brighten up here today and they've all taken different wee things from it."
Craig is a father of three and he often worries about the effect his journeys have on children Layla, 17, Jake, 14 and ten-year-old Ruari as well as his wife Michelle.
"It is harder on the family than it is on me," he said.
"There was one night in Antarctica and I was genuinely cold, the worst of the hunger had kicked in and it was really bad.
"Michelle and the kids could see a storm coming in but I'd told them I didn't want to know about storms.
"I made a phone call home and Michelle could tell I was absolutely freezing, I could barely talk I was so weak. She knew it was minus 70 degrees centigrade and I stupidly said to her that I hoped I didn't get frostbite as I slept.
"The storm came in and we were blacked out. It was too stormy to get a satellite connection so for three days she heard nothing and feared the worst.
"There is no chance of rescue out there. Then I got through to them and realised how stupid I'd been by saying something like that to them. I just never did after that."
Craig credits his children with getting him through his expeditions when the going gets really tough.
The 43-year-old said: "When I ski I get really physically tired and there is a voice screaming in my head to stop but you have to learn how to shut that out.
"I think about the kids egging me on and telling me to ski faster and to stop whingeing until eventually that takes over.
"Over a period of weeks I got really good at that and could do it with hunger as well, by the end.
"At the halfway point of the trip I was just so hungry. I ate all my painkillers – not because I was in pain but because I was hungry – and I ate my toothpaste too.
"I would think of Christmas Day when you really stuff yourself and you feel sick because you've eaten too much. I would take everything in that I could remember – the sounds, the smells, everything – and bring it back to the here and now. And the hunger would just go."
The explorer, who is as a partner in an accountancy firm when he's not on expeditions became so good at visualisation that by the end of his South Pole endeavour he could block out anything, even pain.
Craig explained: "Hunger is a physical pain. When that comes you block it off and just walk through another door.
"Same when you get physical pain from injuries – you block it off by thinking of a time where you never had pain."
That's how Craig was able to walk hundreds of miles despite ripping the ligaments in his knee.
"In my mind it didn't matter at all. The fact I could move it was all I cared about," he said.
He kept on moving until he touched the brass of the South Pole but the worry didn't stop there. But not through fear of injury or pain.
Craig said: "As I got nearer the pole I got frightened.
"I was getting interviewed by the BBC at the pole and I couldn't sleep with worry in case they asked me the question: what was it like?
"I was stressed because I genuinely didn't have an answer at that point.
"It was a couple of months until it did. The world made absolutely no sense when I got back."
Travelling to the most northerly and southerly points on earth resulted in his world being turned upside down when he returned. He was named Scotland's greatest ever living exporer.
Speaking of his accolade, he said: "It's embarrassing. It's something that came from the Royal Scottish Geographic Society who I used to lecture for.
"I'm not is the bottom line. There are far greater people out there, it is a horrible celebrity tag. But it has helped open doors.
"I never claim to be anything at all. The simple truth is it's because no one else is doing it so I have to be."
Things have settled down for Craig now and he is setting his sights on the next big adventure – fundraising to show youths a new world with a trek through Greenland.
For more information on this new trip visit Greenland Explored.