Ghost hunters run historic first event in Govanhill pool
Glasgow's real life ghost busters have probed the newly refurbished Govanhill Pool for signs of paranormal activity.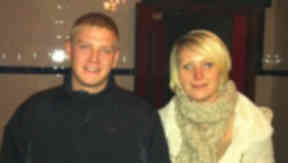 There were some spooky goings on at the Govanhill Baths when the Lanarkshire Paranormal Society set up a ghost hunt, asking members of the public to help them find spirits in the Edwardian pool complex.
Complete with a ghost hunting kit of stealth cameras – which only go off when something moves, parabolic microphones – which can hear noises through walls and up to 100m away – and temperature sensors, the team spent around six hours investigating paranormal activity in all corners of the building.
The evening was an historic occasion for the Govanhill Baths – it was first event to be held in the building since it closed to the public over ten years ago.
It was also the first time the public have been invited to attend a Lanarkshire Paranormal investigation, which attracted around a dozen people from the west of Scotland.
First time ghost hunter Gillian MacGregor, a retail manager from Larkhall, said: "I've never done anything like this before, but I was desperate to come along.
"It's been brilliant. In one of the rooms I felt a presence on my neck which was a bit scary, but I'll definitely come back to do more investigations in future."
Graeme Cuthbertson, 24, an electronics engineer from Larkhall added: "I never used to be a believer in these things but now I've changed my tune."
Manager and co founder of Lanarkshire Paranormal Steff Richards set up the society over a year ago to investigate private locations and hold public events for people to experience the unexplained.
Mr Richards said he was delighted with the event: "It was an absolute success, we want to go back again soon.
"I've been doing this for 16 years and I've never had an evening quite like the one I just had at the Govanhill Pool.
"I can be quite a skeptic when it comes to these things – not every bump is a ghost and I don't believe everything you see or hear can be put down to the paranormal.
"That's why it's important that we use the scientific equipment to record what's happening. Everything we do is an experiment."
The team examined all three swimming pools in the building, alongside the old steamie area and the public baths on the top floor.
With the help of two mediums, they were guided to the parts of the building where it was felt paranormal activity could be present before they tried to make connections with the paranormal.
One area of the baths has some chilling history which could make it attractive to dedicated ghost hunters – the ladies pool was used as a temporary morgue for bodies during WW2.
Govanhill Baths Community Trust's Project Manager Andrew Johnson said: "During doors open day we had a chap come in and tell us his father drove the bodies here after the Clydebank Blitz because there was no space at the city morgue."
Although the ladies pool is currently out of use, any potential future swimmers shouldn't be put off, as mediums in attendance on the night reported no active spirits in that area.
Mr Johnson added: "No doubt the spirit of Sir Daniel MaCauley, Lord Provost of Glasgow, who opened the baths in 1917 was turned on Saturday night.
"A smiling male face was seen, they say - no doubt the provost's delight that local people had remained faithful to his cause and saw the baths doors reopened after ten years of struggle, with this first event underway."
In detail
Lanarkshire Paranormal SocietyGovanhill Baths Community Trust