Man arrested over fake ecstasy pill 'Rockstar' freed from custody
The 18-year-old did not appear in court in connection with the incident.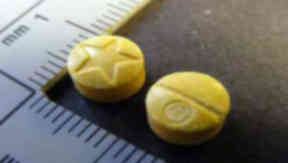 A man arrested after fake ecstasy pill Rockstar left seven in hospital has been released from custody.
The 18-year-old had been detained by Strathclyde Police after the incident in Lanarkshire on Saturday.
He was scheduled to appear at Airdrie Sheriff Court on Tuesday in connection with alleged drugs offences after he was arrested on Monday.
However, the Crown Office confirmed the man was liberated and did not appear in court over the drugs allegations.
A spokesman said: "The procurator fiscal at Airdrie received a report concerning an 18-year-old male in connection with an incident on 2 March 2013.
"After full and careful consideration of the facts and circumstances of the report, he was liberated from custody pending further investigation and did not appear in court."
Strathclyde Police previously issued a warning to the public to beware the "potentially deadly" pills, which can be either red or yellow in colour and carry the impression of a star on them.
Officers said the contents of the tablets were unknown but could be a cocktail of various other substances. The force said it was working with health officials and medical staff to determine the make up of the tablets and their origin.