Glasgow's Theatre Royal gets £4m in government funding for makeover
Announcement means Scottish Opera has raised 90% of the money it needs for the £11.5m renovation.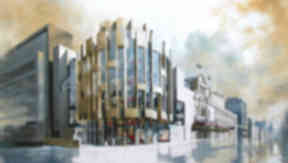 Plans to give Glasgow's Theatre Royal a dramatic facelift have moved a step closer to realisation with a £4m funding boost from the Scottish Government.
Scottish Opera hopes to have the £11.5m scheme finished by the time the city hosts the Commonwealth Games next year, which will also mark 40 years since the opera company bought the venue.
The plans will transform the facade of the building, with a new entrance on the corner of Cowcaddens Road and Hope Street, while inside the bars, box office, cloakrooms and hospitality suites will all be made over.
The renovation will also create space for lifts to be installed for the first time, improving disability access to the theatre.Culture secretary Fiona Hyslop said: "The Theatre Royal is a beautiful building and one of our nation's major cultural assets. However, it was built in Victorian times and needs updating to meet modern needs.
"This project - which is due to be completed by the Commonwealth Games in 2014 - will transform the theatre, with the addition of a spacious new foyer and much improved public facilities ensuring it will be accessible to all.
"The creation of a new education suite and plans to open up the foyer for use during the day will also turn the theatre into a fantastic cultural resource for Glasgow and Scotland as a whole."
Scottish Opera has now secured 90% of the funding it needs for the project and plans to raise the rest through a public appeal.