West End Festival prepares 500 events over four weeks as it comes of age
The festival of arts events, exhibitions, performances and screenings is back on Friday, May 31.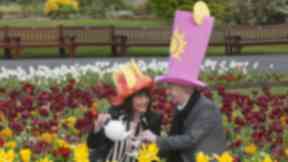 Get your calendar at the ready for the West End Festival has revealed dates for its 18th birthday programme.
The festival is back on Friday, May 31 and will run until Sunday, June 30.
The full programme for the festival of workshops, screenings, performances and exhibitions will be unveiled in April but there's set to be close to 500 events across the four weeks and five weekends across May and June.
A fashion fundraiser with L. K. Bennett is scheduled to kick-off the fun on May 7 at Hotel du Vin.
And the 18th birthday year will also see former Lord Provost Bob Winter OBE joining the board.
Liz Scobie, the chairman of the West End Festival, said: "There were an estimated 1,800 artists and performers at the 2012 festival. It continues to attract visitors into the city from beyond the city boundaries, last year making up 30% of all visitors.
"It's timely that Bob should join the board as we look to the future of the festival which includes securing funding from organisations as well as sponsorship from brands and local businesses alike.
"The programme for the 2013 festival will launch in April and there are many opportunities for artists, volunteers and sponsors."
The festival is supported by funding from Creative Scotland, Glasgow Life and Glasgow City Council.
Bob Winter, a long time west end resident added: "I am really thrilled to join the board and to get more involved in a festival that's been a major part of the community over the last 17 years."
For more information go to the West End Festival website or find them on Facebook and Twitter.