Documentary maker seeks Ravenscraig workers and their families for film
Shooting starts around Motherwell and Wishaw as film maker appeal for former workers to get in touch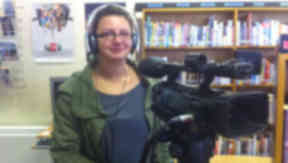 A budding documentary maker is appealing for former steel workers to come forward for her investigation into life 20 years on from the closure of Ravenscraig.
Ilona Kacieja is already out filming around the streets of Motherwell and Wishaw, where thousands used to be employed at the huge steelworks for her film, which will be part of her Edinburgh College of Art course.
But she now needs more former workers, and their families, to come forward to tell the story of life in the area since the works were closed two decades ago.
Ilona's documentary, called 'Red Dust' hopes to focus on the issue of epigenetic illness, such as respiratory problems, since the gates closed on Ravenscraig on June 24, 1992.
Ilona said: "I am looking for characters for interviews and I am developing the idea of external industrial pollution and internal epigenetic pollution.
"People living in the vicinity of Ravenscraig have suffered various health problems for many years. The aim of the documentary is to inform the public and decision makers about personal dangers and show that 'Not In My Back Yard' attitudes are unacceptable."
If you are interested in collaborating or can help Ilona with information about Ravenscraig, you can contact her on 07411 310476 or by email.