Learning disability day centre closures: the public reaction
As Glasgow City Council announce the closure of Berryknowes, Hinshaw Street and Summerston learning disability day centres, members of the public have their say.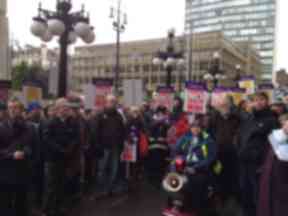 Three Glasgow day centres are set to close as part of a redesign of learning disability services.
The decision to close the facilities was made at the executive committee meeting of Glasgow city Council on Thursday (March 21).
Berryknowes in Cardonald, Hinshaw Street in Maryhill and Summerston will now be closed.
The closures will be phased in line with the roll out of personalisation - a form of social care tailored to the needs of individuals, giving those with learning disabilities their own budget for care.
Four day centres across the city – Riddrie, Carlton, The Wedge and Southbrae – will be retained for those with the most complex needs.
Following the announcement, many carers and campaigners spoke out against the plans and contacted STV Glasgow to give their opinion.
Wesley Greer got in touch to say that he didn't think day centres in Glasgow should be closed.
He said: "These are vulnerable adults who are being left without a day care centre to go to.
"They always look forward to going to their centre because it gives them a break from their parents and it also gives them the opportunity to meet up with all of their pals.
"For this to happen to them is an absolute disgrace."
Pauline Campbell echoed Wesley's sentiments.
She said: "How Glasgow councillors can sleep at night is beyond me, what they are doing to these families is an absolute disgrace.
"People are so stressed by the daily challenges that they face in life that they can't put up the fight required to get the powers that be to listen to them."
Campaigners also took to Twitter to make their views known.
@stvglasgow Distressing , totally distressing ....what happened to Glasgow's caring city !!!!

— linda mccafferty (@mccafferty2) March 21, 2013
Newton Mearns mum Carole Gillespie has a 15-year-old daughter with complex learning difficulties and is 'horrified' by the news.
She said: "I read with horror of the closure of the three day centres by Glasgow City Council.
"We can identify fully with the impact this decision will have on the lives of the families and especially the people with learning disabilities.
"The worst aspect is when you are caring for someone with a learning disability it takes so much time and energy, both physical and emotional, that you have little left to fight issues such as this.
"It is very sad and a real indictment of Glasgow City Council that they have made this decision without considering the devastating impact it will have on so many lives.
"It will be impossible to explain to the young people why they are not able to go to the day centre and be with their friends any more. They will be heartbroken."
Evelyn MacIver said: "I am disgusted and ashamed to be a Glaswegian today.
"Where is the humanity?
"Matt Kerr and Gordon Matheson are 'not fit for purpose' and should never have another night's sleep as they have ensured that most of the carers won't."
Diane Stevenson also questioned the closure decision.
She said: "As per usual the council do everything to suit them and not the people who voted them in.
"Why not build new day centres first and then gradually move our most vulnerable if need be?
"I am fed up with these councillors wasting my taxes.
"When is anyone going to look into all these useless consultations - they are just a cover to make out they are listening to people when in fact, they are not."
Julie McIntosh's sister uses the centre facilities. She believes the closures remove the opportunity for people with learning disabilities to socialise and learn new skills.
She said: "The closure of these centres is removing a part of my sister's life.
"It gives her a feeling of independence from my parents, who she stays with full time and spends the majority of her time with.
"By removing this part of her life it takes away the small amount of independence she has and isolates her from her friends.
"This service provides a reprieve for both my sister and my parents and the removal of this service will have a very negative impact on their lives.
"People with learning or physical disabilities need these centres to make them feel part of the community and society in general without these they are being pushed into isolation, increasing the amount of pressure on their carers, many of whom are elderly parents."