West End Festival asks public to dig deep to add more fun to the bill
Mardi Gras Parade could return to the West End Festival if new crowdfunding initiative raises enough money.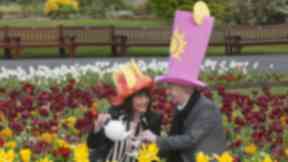 How does your own private guided tour of Glasgow's architectural gems sound?
Or what about the chance to get some of the stars of the West End Festival to leave the public celebrations and perform at your home?
Or what about simply getting your hands on a t-shirt?
Well the organisers of the annual event have lined up these very opportunities thanks to its new fundraising drive.
Last year, some of the festival's highlights had to be cancelled due to a shortage of funds. So to add more fun to the bill this year, the festival team has launched a crowdfunding project which will give those who dig deep the chance to get their hands on everything from t-shirts to exclusive events.
If enough money is raised it will even lead to the reinstatement of one of the its big party pieces - the Mardi Gras Parade.
The parade, which features hundreds of samba bands and dancers has traditionally been the event's centrepiece but costs for security and street cleaning meant it couldn't go ahead in 2012.
Chairman Liz Scobie said: "Last year we didn't have our usual parade and some people were disappointed, but we need to be realistic why it couldn't go ahead. It comes at a price."
This year the festival celebrates its 18th birthday.
A fashion fundraiser with L. K. Bennett is scheduled on May 7 at Hotel du Vin before the festival properly begins on May 31.
An expected 1,800 artists are set to take part in 500 events over four weeks.
To help get involved, visit the West End Festival website.