Teenager receives record deal after writing song for terminally ill girl
Coatbridge High school pupil offered deal after song for Yorkhill reaches iTunes top 40.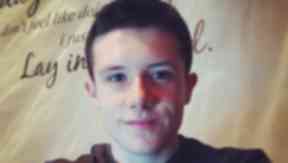 A Coatbridge schoolboy has been offered a record deal after reaching iTunes top 40 with a song he wrote for a terminally ill girl.
Ryan Lawrie wrote the song You're Free after being contacted by the girl who asked him to write her a song.
Tragically, she passed away before he got the chance to write it. So the 16-year-old decided to write a song in her memory and dedicate it to Yorkhill Sick Kids Hospital in Glasgow.
Ryan said: "I was contacted by a girl on Facebook who must have come across my YouTube channel. She told me she had an illness and asked if I would write her a song.
"But my exams were coming up and I didn't have time. Then I was told she had died and I rushed to my guitar.
"I felt guilty that she didn't get to hear it."
Ryan uploaded the song to his YouTube channel last month and was going to make the song available to download for free.
But last week he decided to put it on iTunes to raise money for Yorkhill Children's Foundation and within days the song shot to number 39 in the iTunes chart. He has now sold 2112 copies of the song, raising £1600.
"I was really shocked when I saw I was beating Adele in the charts," said the Coatbridge High School pupil.
"It was just uploaded last week and by the Wednesday night it was sitting at 100.
"Then later in the week I just looked at the chart and thought 'how can my name be sitting between Justin Bieber and David Guetta?'
"It's crazy. I can't believe I got that high in the charts without any help."
Not only has the teenager now got more than 7,000 subscribers on YouTube and almost 50,000 on Facebook, but he has also caught the attention of music managers and labels in London.
He said: "It's all getting crazy now. People have been trying to get in contact with me about signing a contract. Ronan Park from Britain's Got Talent's manager has been in touch and so has Pixie Lott's manager.
"Some people want to get me down London next week to get me in the studio with Emeli Sande's producer."
With a recording deal in the pipeline, Ryan is still struggling to believe how well You're Free has done, having only been writing his own music for the past year.
He said: "I've been writing my own music for about a year but the stuff I was writing at the start wasn't very good. I've matured a lot now but I could never have seen this happening.
"I thought I'd release that song and it would raise £200, maximum. I never thought I'd get this far. It's unbelievable.
He added: "I was always thinking about going on shows like the X Factor because I thought it was a shortcut. But now I know that's not the case. If you work hard and keep at it you'll get somewhere."
Kirsten Sinclair, fundraising manager at Yorkhill Children's Foundation, said: "We are very grateful to Ryan for choosing Yorkhill Children's Foundation as the charity to benefit from his heart warming single You're free.
"It is a very kind gesture to dedicate it in memory of the little girl who sadly passed away.
"We are honoured to receive the money made from the single which will help fund a wide range of advanced medical equipment, paediatric research and training, patient and family support, as well as improvements in hospital facilities at Yorkhill.
"We'd also like to say a big thank you to everyone who downloads the charity single and we wish Ryan all the best with his future singing career."
You're Free can be bought on iTunes and to keep up with the latest music from Ryan, subscribe to his YouTube channel or follow him on Facebook or Twitter.