Team GB Handball coach ready for homecoming game at Ravenscraig
Team GB will play Italy at Ravenscraig in Motherwell in a 2016 European Championship qualification match on April 4.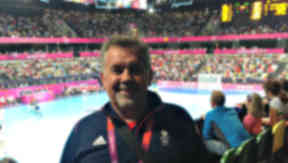 It will be the first time a Great British side have competed on home soil since the Olympic games in London last summer.
But for Handball coach Bill Baillie it's more than that - it's a homecoming.
He grew up in Cumbernauld where he attended Greenfaulds High School and took part in Judo classes at Tryst Sports Centre. And it was the love of the martial art which would one day lead him to the chance encounter of getting into Handball.
Handball was the surprise hit of the Olympics last summer with every match in the tournament selling out.
Team GB will be aiming to secure their first victory in the 2016 European Championship qualification at Ravenscraig following a hard-fought defeat in Greece back in October.
And now as coach, Bill aims to help them do it.
The 50-year-old said: "I'm looking forward to it. We won't come together until Tuesday because this is towards the end of the domestic season in most European countries and the players have been busy with their clubs.
"I actually started my Handball career in Cumbernauld at the Tryst Sports Centre and years later became one of the founding members of Handball Scotland.
"I was actually doing Judo at the time and one day I was going up to the sports centre but it had been cancelled and nobody had informed me. So I got a drink and went downstairs to watch what I thought was going to be five-a-side football.
"One of them was a lad called Steve Welsh who started Handball in Cumbernauld and even Scotland in the late 1970s.
"They were just playing this game and asked me to join in and from that point I was hooked.
"When I went back to school I pestered the head teacher to get it introduced and eventually they delivered it. Things kicked on from there.
"There was an employment opportunity in Salford with the local authority as a Handball development officer which I had to take but I've still got family in Scotland. They've all got tickets for Thursday."
Getting hooked into such a unique sport eventually gave Bill the opportunity to get involved with the game at a national level and eventually to the London 2012 Olympic Games.
"To be honest with you it was a bit mental," he admitted.
"We were on the road for a long time before the games actually started; starting our training preparations in May in Serbia and we were on the road until one week before the Olympics started.
"Things were normal when we were in Serbia but as soon as we arrived in Loughborough there were Team GB signs everywhere. That was a good week for us because it kind of prepared us for what would happen when we entered the Olympic village.
"It was a terrific experience and I don't think any of the staff or players will forget it for various reasons but it was also a stressful time.
"We knew it would be a tough tournament; the strongest region in the world for handball is Europe and we knew that the best six teams from Europe were in that group. As it transpired our opening two games were against the eventual finalists France and Sweden."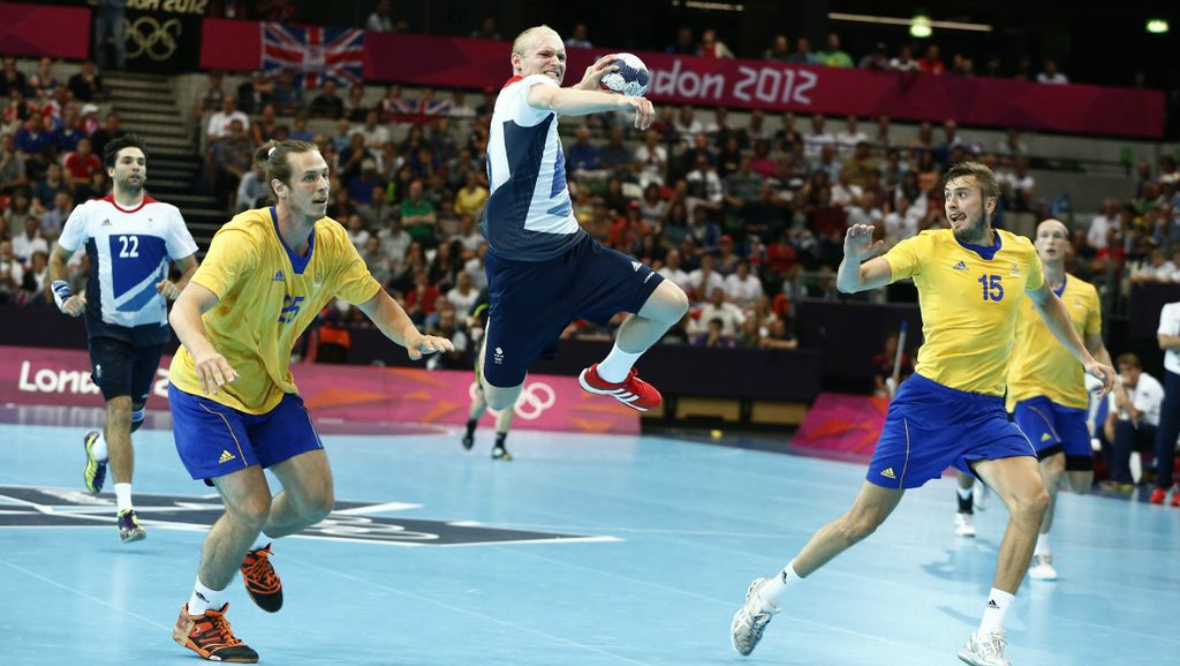 Team GB's Seb Edgar against Sweden at London 2012
Despite the incredible experience and deafening crowds, the European Championship qualifiers also mark a mini-transitional period of the squad, with the coach hailing it as a 'new era'.
Bill added: "Some players have stopped playing and we've brought in some players from the U19 squad who have proven themselves.
"It's quite a young team we'll have but when you bring in youth you get a lot of enthusiasm and they don't fear failure – they're risk takers. Hopefully that will have the desired affect, especially in front of the home crowd.
"There are one or two players we're missing through injury or financial circumstances but there's seven of the Olympic squad in this squad with a mixture of players who didn't quite make the final selection for London and they'll get another chance to get their foot in the door.
"As I said there's three U19 players in the squad as well.
"In our opinion we've lost some experience but we've replaced that with youth and better technical players. The only thing they'll lack is experience. For some of them it will be their first international so it will be good for them to get their first cap in the UK."
With Bill's connection to Lanarkshire and the Handball following in Cumbernauld, Ravenscraig Sports Facility must have seemed like an ideal opportunity for the qualifier against Italy.
Blane Dodds, chief executive of North Lanarkshire Leisure, said: "We are delighted to to bring this prestigious handball international to Ravenscraig. Handball is a massive international sport with a particularly high profile in Scandinavia, Europe and many other parts of the world.
"North Lanarkshire has always had a strong handball presence with the Tryst Sports Centre Handball Club, which provided the Womens' captain for the British Olympic Team at last years' London Olympics.
"We were also one of the first areas in partnership with the SHA to put in place a dedicated Handball Development Officer who is building participation in the sport in Schools and clubs across the local area.
"We are looking forward to what will be a very exciting match between Team GB and the Italians and we would encourage anyone with an interest in the sport to attend."
The game kicks off at 7pm on Thursday April 4. For tickets click here.
Following the Italy tie on April 4, Team GB will travel down to London to take on Greece at Crystal Palace on April 7.