Council leader says bedroom tax is 'more complex' than evictions
At a full council meeting, North Lanarkshire Council votes to keep powers to evict tenants affected by the 'bedroom tax'.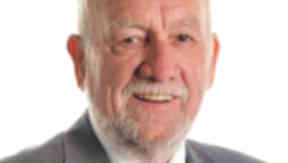 The leader of North Lanarkshire Council has defended the local authority's decision to employ the forthcoming 'bedroom tax' and retain the power to evict council tenants.
At a heated full council meeting on Thursday, March 28, the Labour-led council overruled a motion to follow the lead of Scotland's SNP majority local authorities who have promised not to throw anyone out of their homes as a result of the new bill, which comes into force on April 1.
On the eve of mass protests in Glasgow and Edinburgh regarding the tax, Councillor Jim McCabe has said that the issue is 'more complex' than simply saying that noone should be evicted.
In the debating chamber at North Lanarkshire Council's headquarters, Councillor Tom Johnston asked for an amendment of committee meeting minutes for Housing and Social Work Services.
It stated: "This council supports the actions by SNP-led councils to ensure that no evictions take place from Council properties as a result of any financial pressures places on tenants by the UK Welfare Reform proposals for a 'bedroom tax'."
The council's Labour majority overruled the amendment 42 to 23, to which Councillor David Baird shouted: "Shame on you - evicting the poor."
Today, Mr McCabe commented on the decision.
He said: "It comes as no surprise to me that the SNP group opted to go for the cheap soundbite and easy politics.
"But this council will make policy decisions on this abhorrent Tory legislation based on analysis and in a considered way.
"It's easy to say we'll have no evictions but the truth is that the picture is much more complex. We'll analyse the impact of all the welfare reforms, not just the bedroom tax, and deal with them in a sensible, sensitive way.
"This council does not go in for routine evictions and they are a last resort. This is not just for moral reasons but to evict for a debt of a few hundred pounds when the costs of rehousing families ruin into thousands is the economics of the madhouse.
"We have demonstrated already that we will work closely with our tenants to help them through this and that work will continue. And I guarantee that this council will do everything possible to protect the most vulnerable in our communities in the face of this right-wing war on the poor."
Several other councillors had their say during the meeting:
Johnstone blames pressure from Westminster government for the pressure and labels the 'bedroom tax' as "Dickensian". #NLC

— STV Lanarkshire (@STVLanarkshire) March 28, 2013
Cllr O'Brien says #NLC should be following the lead of other SNP councils who are not evicting people in financial pressure.

— STV Lanarkshire (@STVLanarkshire) March 28, 2013
Cllr McGlinchey: "This tax won't work, and yet people who will suffer will have to suffer without council's evictions. We have a duty" #NLC

— STV Lanarkshire (@STVLanarkshire) March 28, 2013
Cllr McNulty: "Evictions cost us money, it would cost us a lot to impose... They're probably going to have riots in London anyway." #NLC

— STV Lanarkshire (@STVLanarkshire) March 28, 2013
CR: McCabe: #NLC do not take evictions lightly, nor does anyone. Those proceedings are last resort and we do everything possible to avoid it

— STV Lanarkshire (@STVLanarkshire) March 28, 2013
#NLC Amendment 23, Motion 42. Cllr Baird aims shouts at Labour councillors 'Shame on you - evicting the poor'

— STV Lanarkshire (@STVLanarkshire) March 28, 2013
The full council meeting was also attended by protesters who were angry at North Lanarkshire Council's decision to band dog-related activities in council owned hall lets.
Councillor Jim Logue, leader of the Labour administration, revealed that he had offered to meet with representatives of various dog association groups across the area to look at suitability of halls adding that 'there was never any intention of throwing out dogs'.
Elsewhere there was some debate on the Westway Retail Park in Cumbernauld and the amount of empty units in the outlet.
Councillor Alan O'Brien argued that Cumbernauld needed a proper town centre before efforts were made to save businesses and proposed a working group to engage interest.
However Councillor David Fagan pointed out that 'Westway is a privately owned park and empty units are not unusual in the current economic climate'.