After ten years of fighting, Townhead has vibrant community hub
Ahead of their summer launch, Townhead Village Hall invite residents in to take a look around the facility.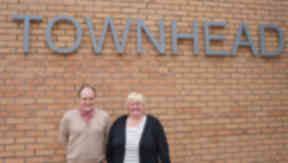 Townhead, one of the oldest areas in Glasgow, houses more than 5000 people and currently has no community facilities.
But don't let that fool you.
Although it is just five minutes from the centre of Glasgow there is a burgeoning, pro-active community in Townhead.
Local groups meet in the cramped basement of a block of high rise flats, in the neighbourhood church and in the area's only school, St Mungo's Primary.
But that is all set to change because after ten years of campaigning, the people of Townhead are finally getting a community centre to call their own.
Although it is not open to the public yet, just one year after the first spade was pushed into the ground, the Townhead Village Hall is standing tall – a glittering hub in the centre of the densely populated area.
A conveyor belt of deliveries shuttle through the glass doors of the shiny new £2.1million centre, from printers to children's play equipment, as the community facility begins to take shape.
Handymen perch atop ladders fitting speakers as bubble wrapped blinds are distributed through the many rooms of the 900 sq metre site.
Paul Irwin was appointed the new centre manager in January 2013.
He said: "The last three months have just been getting the building ready and now it's the community side of things that we're working on.
"The ladies of the board started up the group because the reckoned that they needed a centre.
"Betty Dougan, the chair, has been the driving force behind the whole process. She lives in the tower next to the centre, she can see everything that goes on.
"They applied for funding to get the building going and we've got to this stage where it is nearly open.
"I think there is a real community in Townhead and they seem really keen to get this up and running. People are really positive about it."
The Village Hall was financed mainly through the BIG Lottery Fund along with grants from the Scottish Government Vacant and Derelict Land Fund, Glasgow Housing Association, Glasgow Community Planning Partnership, Hugh Fraser Foundation, Landfill Community Fund (LCF) and Glasgow City Council.
"There was absolutely nothing in Townhead. They've been fighting for this for about ten years," explained centre administrator Sheena Duff.
"It is just a matter of seeing what people really want and what we can facilitate."
So on Thursday (April 11), between 1pm and 7pm, the centre will throw open it's doors to welcome locals in to give their opinions ahead of the official launch in the summer.
There will be facepainting and entertainment for children, as well as almost 20 information stalls.
Paul said: "We'll let the adults from the community know the kind of services that are going to be on offer when we open and to give feedback on what kind of services they're looking for."
Organisations such as Glasgow Life, Housing Association, the health board, City of Glasgow College, Volunteer Glasgow and Police Scotland will be providing information on the day.
A veritable smorgasbord of activities have already been put forward from community gardening, breast feeding classes, smoking cessation, dance clubs and even providing washing lines for those living in the high rise flats with no gardens.
Paul said: "It is going to benefit the community. If you just come in to use it for one thing and then end up having a chat with a neighbour that you might not know or learning a new skill.
"We've got a lot of students here and more asylum seekers coming into the community, too, so we want to get everyone gelling together by giving them a place to meet."
The Village Hall already has a membership pushing 150 local people and for Paul, Sheena and Townhead, the future is looking bright – and leafy.
In November, 30 trees will be planted in conjunction with Eco Drama and the area's primary school, St Mungo's, to create a community orchard.
For Paul, that will be the cherry on top of the facilities available at Townhead Village Hall.
He said: "We're hoping to be quite self-sufficient – we can generate income from the pitches, from functions in the main hall and we'll get money from Credit Union and Jobs and Business Glasgow, who will have a full-time presence here.
"The café is to be run by volunteers and we're hoping that Unity Enterprise, who have the Spoons café, will come in. They're keen to come in and they'll run it with volunteers.
"We won't make any money from the café, it'll just basically be a service to attract people in.
"We're hoping to get an IT suite, too, which people can use for free, to be managed by John Wheatley College."
The team are hopeful that locals will use the facility as much as possible and prices will reflect this desire.
Paul said: "We've got our pricing structure, but if it is for the good of the community, the cost will be significantly cheaper. We'll negotiate with people to bring them in if they can't afford it.
"We'll open as much as we can – all week if they want us to! We want to make it a real community hub."
For more information on the Village Hall, find them on Facebook.