Motherwell boss says second-hand smoke affects youth potential
Fir Park manager supports call for smoke-free cars and homes in Lanarkshire.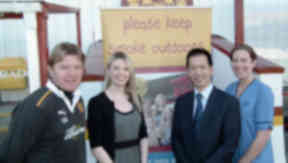 James McFadden, Stephen Craigan and Lee McCulloch all catapulted up the career ladder at Fir Park.
Football was their passion, fitness was their ally and youth was on their side as they strived to reach their potential in the sport.
A healthy lifestyle is central to all competitors and it is a right that Motherwell Football Club believe all children in Scotland should have.
It is with this in mind that the club have decided to join forces with NHS Lanarkshire to raise awareness about the dangers of second-hand smoke.
Motherwell manager Stuart McCall joined health experts at Fir Park to support the health board's campaign which aims to reduce children's exposure to second-hand smoke by encouraging smokers to make their cars and homes smoke-free zones and only light up outside away from others.
Stuart McCall said: "Any campaign which helps young people stay fit and healthy will always receive my backing.
"Most youngsters are well aware of the damage smoking does to them and take steps to avoid it – especially those who enjoy taking part in sports.
"I'd like to think smokers would respect and understand this and take steps to prevent young people being exposed to second-hand smoke to help them fulfil their potential."
Second-hand smoke comes from lit cigarettes, cigars or pipes and is breathed in by other people. It contains a mixture of more than 4000 chemicals, 40 of which are known to cause cancer.
The passive smoke mainly consists of sidestream smoke, a substance which is about four times more toxic than the mainstream smoke which is directly inhaled through the mouth end of the cigarette. Sidestream smoke is, however, inhaled in a more diluted form.
Dr Soong Tan, consultant physician in respiratory medicine, said: "Scotland has led the UK in banning smoking in public places which has produced significant health benefits for adults.
"We should lead the way again in reducing smoke exposure to children, especially in cars and homes.
"Children are particularly vulnerable to cigarette smoke as their lungs are still developing and I'm delighted that Motherwell FC is helping us to promote a healthier environment for our children."
Cancer Research UK estimates that second-hand smoke can increase a non-smoker's risk of getting lung cancer by a quarter.
The charity also reports that passive smoke can cause other health problems such as heart disease, stroke and breathing problems.
Dr Carol Dryden, consultant paediatrician with special interest in respiratory paediatrics, added: "Children who are exposed to second-hand smoke are more likely to suffer from poorly controlled asthma, asthma attacks, chest infections and ear infections.
"These children are also more likely to be off school as a result. Children and babies often don't have the choice or can't move out of the way of second-hand smoke and we're appealing to smokers to help us to help them live healthier lives."
This article is in association with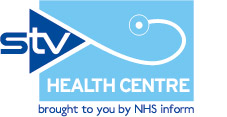 For more on quitting smoking, visit Can Stop Smoking.