Paddle power propels Glasgow to Edinburgh canoe trail into reality
Canoeists prepare to hit the water paddling as funding is approved for the Glasgow to Edinburgh canal canoe trail.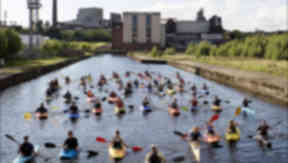 The Glasgow Queen Street to Edinburgh Waverley line and the M8 are the two most well-trodden paths between Scotland's two biggest cities.
Sometimes getting a coach enters the mix or maybe hopping on the new Airdrie-Bathgate train at a stop of your choosing.
But have you ever contemplated jumping in a canoe and paddling the journey?
Well, soon you'll be able to swap the busy rattle of the rail line and traffic jams on the road for fresh air and breathtaking scenery because Scottish Canals, the firm who manage the country's inland waterways, are planning to create a canoe trail from Glasgow to Edinburgh.
Thanks to a cash boost of £36,487 from the Central Scotland Green Network's development fund, the project is rapidly advancing.
Using the Forth and Clyde Canal and the Union Canal, canoeists will be able to make the 92km journey between Glasgow and Edinburgh without burning a single hydrocarbon.
Carron Tobin, of Scottish Canals, said: "It is fantastic news, it is a project that Scottish Canals has been really excited about.
"The idea of the canoe trail is that with the Forth and Clyde Canal and the Union Canal with the Falkirk Wheel in the middle that you'd literally be able to get in a canoe at Speirs Wharf in Glasgow and paddle the full breadth of the country to Edinburgh Quay.
"The funding we've got is to put in low level pontoons so that when you have to get out when there is a lock on the canal, it'll be easy to get out.
"It'll also fund a guide book and interpretation signs to let you know what you're looking at. The canal passes through quite a lot of heritage and old historic sights.
"So it is a way of not just being able to canoe between them, but actually enjoy a lot of the different sights as you go along."
There will be 30 different pontoons located all along the length of the canals.
There will also be a waterproof map provided so that those taking to the water can plan out their days. The project is estimated to cost £100,000 and will be operational by Easter 2014.
"The project at the moment is about getting the infrastructure so you can paddle the full length," Carron explained.
"The plan is to have a second stage where we start looking at locations where we could maybe have camping areas or small wigwam type places so you can stop off on your way across and stay."
Stopping for the night on the route is an essential element of the trail as the journey can take anything up to a week.
Carron said: "It is a bit like the West Highland Way – you could do it, if you were a real enthusiast, in about two days but for the novice or anyone wanting to do it at a more leisurely pace it could take a week to do.
"It is a very accessible market as well because it doesn't cost a huge amount of money to either hire or buy a canoe.
"The city trail is a very safe environment, too, because it is inland water so there is a chance for people who wouldn't necessarily consider themselves canoeist can end up doing something like actually paddling miles across Central Scotland over two or three days."
So why the sudden rise in interest in canoeing as a pastime and as a sport?
Carron can answer that.
She said: "Canoeing is considered to be one of the fastest growing sports in Scotland outdoors.
"It is interesting – you could say some of it has been sparked by the Olympics and we also have some very high level paddle sports people in Scotland.
"The Pinkston Paddle Centre has just been awarded a significant sum of money to build a paddle centre at Pinkston Basin nears Speirs Wharf in Glasgow.
"It is a centre where people can learn all about paddle sports and train – from novice right up to Olympic Standard. I think this and the trail coming along on the same timeline is extremely exciting, it is kindling a lot of interest in paddle sports.
"The Caledonian Canal Trail went in just a few years ago and that was the first one, which has gone extremely well. The numbers are growing steadily every year. I think that's what sparked the idea that we could do this across the whole Central Belt of Scotland."
The plans have received widespread interest from a number of fronts – charity challenges to scouting outings.
Carron thinks the trail will be a welcome addition for many enthusiasts.
She said: "There are quite a lot of local youth projects and canoe clubs that are actually based along the canal but they tend to just potter around within a short length of the canal because of the whole issue about being able to lift the canoes out and put them back in.
"We've had about 30 club letters of support from across the Central Belt and they all see themselves using it.
"A lot of people do canoe on canals. The reason that they do is because it is almost like an all year round pursuit. It is inland water so you don't get any serious wave activity.
"The Union Canal – from Falkirk all the way to Edinburgh – there are very few locks on it because it runs on the contours so you actually can go for the equivalent of about ten or 15 miles without stopping."
For Carron, the timing of the project couldn't be better.
She said: "Also we have to bear in mind that next year is the Commonwealth Games so where there could be a lot of interest in the trail as it goes right into the heart of Glasgow, where the games are taking place.
"It is one of these projects that you think, 'why hasn't this been thought of before?' But then I say, well it has been thought of now, so lets get on with it."
For more on the project, visit the Scottish Canals website.