Thatcher remembered: The Scottish Nationalist Nicola Sturgeon
Glasgow Southside MSP and deputy leader of the SNP Nicola Sturgeon on Margaret Thatcher's 'them' and 'us' style of governing.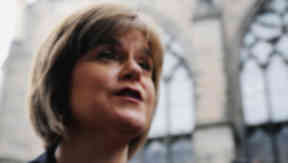 A leading female politician in her own right, the SNP deputy leader Nicola Sturgeon acknowledges Margaret Thatcher's premiership helped inspire her towards a career in politics of an altogether different hue. But as a Scottish Nationalist and MSP for areas which include the shipyard communities of Govan, she argues that the former Prime Minister's policies leave a controversial legacy hard to forget.
"The death of Margaret Thatcher is a sad loss to her family and friends.
No matter what you think of her, she was a mother and a grandmother and my sincere condolences go to those who loved her.
Beyond that, she made history by becoming the first woman Prime Minister - and that should be acknowledged.
It is a shame that she did not do more to support other women during her period in office, but that does not take away from her own achievement in succeeding in what was very much a man's world.
She will long be remembered.
We have all heard from those who remember her as the woman who saved Britain.
I have to say that is not how she is remembered by most people in my constituency.
My recollection, growing up under her premiership, was of a Prime Minister who governed on the basis of 'us' and 'them'.
And, as far as she was concerned, Glaswegians and Scots were 'them'.
The brutal de-industrialisation she presided over, and the unemployment that resulted, has left deep scars in every community in this city and across Scotland.
Of course, our experience was not unique.
Across the Western world economies contracted and no-one denies that our economy would have gone through many changes regardless of whether or not Mrs Thatcher was in 10 Downing Street.
But what hurt was that the government didn't seem to care or to feel they had any responsibility for the people and communities that were being devastated.
And to make matters worse, the social policies pursued by the Thatcher Government were driven by right wing ideology rather than by wanting to help people cope with and overcome traumatic change.
This is why so many people in Glasgow find it hard to forgive what her government did.
Former Lord Provost Michael Kelly recalled that if Mrs Thatcher's Government had provided real support for the Miles Better campaign it would have made it easier to regenerate communities and tackle the terrible deprivation that had parts of the city in its grip.
Instead, he said that her policies actually caused the city a great deal of harm.
I grew up in the dark days of the Thatcher era and it was her approach that partly motivated me to get involved in politics.
I believed then, and believe now, that there is such a thing as society - and in tough economic times it is more important than ever to put ourselves in the shoes of the most vulnerable.
I am proud of the way people responded to Mrs Thatcher's Government by rallying to the cause of a Scottish Parliament, so that Westminster could never again impose an iniquitous measure such as the poll tax on our country.
Today, as another Tory Government introduces policies such as the 'bedroom tax', the constitutional debate continues.
The realisation of the need for self-government was Mrs Thatcher's biggest legacy to Scotland – even though it is not one she would want to be remembered for."
STV Local reporting team: Neil Drysdale, Graham Fraser, Kayleigh McLeod, Douglas Barrie, Jonathan Rennie, Kris Gilmartin, Laura McLean, Greig Gallagher & Ian Hendry.