Thatcher remembered: The 'Poll Tax' protester Tommy Sheridan
He was a young firebrand when Margaret Thatcher introduced the poll tax. Here Tommy Sheridan reflects on her decision and the anti-poll tax campaign.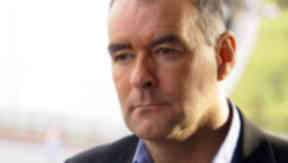 Tommy Sheridan. Secretary of Pollok Anti-Poll Tax Union, Chair of Scottish and All Britain Anti-Poll Tax Federation. Tommy Sheridan, jailed for six months for attending a warrant sale demonstration in Turnbull Street on October 1, 1991. By the time John Major called time on the community charge in 1992, he had become one of the most recognised faces in Scottish and UK politics. Here he shares his memories of Margaret Thatcher's legacy in Scotland.
"One thing needs to be made clear. The poll tax demonstrations weren't a call to arms by the Labour Party or the Anti-Poll Tax Union or Tommy Sheridan.
The anti-poll tax demos were the result of one thing. Poverty - and that was a poverty caused by one woman and her politics, Thatcher.
She came to power in 1979 and before Thatcher and Thatcherism, someone of my generation, someone growing up in Pollok, didn't know what the dole or unemployment was - or the apathy, despair, drugs and homelessness that it led to.
Hers was a politic that was a horrific turn on Robin Hood, robbing the poor and giving to the rich.
The Community Charge, or the Poll Tax, was this in excess. It represented the most graphic attempt to transfer wealth from the poor to the rich.
All of a sudden a normal Glasgow family living in a tenement would find themselves paying more to keep a roof over their heads while someone in a mansion would be paying less.
When it was announced that Scotland would become the guinea pig for this new regime then fear of poverty was followed by resentment and revolt. This was where Margaret Thatcher set her downfall.
Until then, Thatcher had picked her fights individually. There was the miners, the steelworkers, all of these different groups who she had taken on separately and beaten. But this time she was taking on everyone together.
For the campaigners it was a matter of telling everyone that she couldn't hurt society if society all stuck together.
People talk of the miners' 12 months of strike action which brought communities together as a civil war without the bullets, and it was. It brought whole communities together.
The anti Poll Tax campaign was another act of civil war. Except this time it was a whole nation that was brought together.
And they did come together.
We started with hundreds of people taking part in marches and demonstrations but it quickly grew to tens of thousands and to give it some perspective, by 1989 there were one million people involved in the non-payment campaign.
One million people in Scotland alone refusing to pay this new tax - and that was despite the fear of warrant sales, of officers breaking into people's homes and taking their goods, things they had worked hard and saved to buy.
It was the warrant sale protest in October 1 1991 that led to me going to jail but it was worth it.I had been interdicted from attending a proposed warrant sale against a lone parent who could not afford to pay her Poll Tax.
Her seized goods would were to be sold at an auction and 300 of us attended to demonstrate and to stop it going ahead.
I went to prison for six months but it helped stopped the officers and the Government humiliating a lone parent. The fact that, to this day, not a single warrant sale has taken place is truly uplifting.
What is inspiring is that those Poll Tax demonstrations, which started in Scotland and then moved to England and Wales, showed the power of society working together.
Thatcher was seen as unbreakable and too powerful to be taken on. But when the rest of Britain reacted in the same way as Scotland and the number of non-payments stretched to millions of people, the poll tax proved unworkable - and she was no longer the Iron Lady.
It helped bring an end to Margaret Thatcher's reign and brought an end to Thatcherism.
But the poll tax isn't Margaret Thatcher's true legacy. Her true legacy is giving birth to New Labour."
STV Local reporting team: Neil Drysdale, Graham Fraser, Kayleigh McLeod, Douglas Barrie, Jonathan Rennie, Kris Gilmartin, Laura McLean, Greig Gallagher & Ian Hendry.