How Partick Thistle fans and players celebrated returning to the SPL
The Maryhill side clinched the First Division title beating Falkirk 2-0 with two games left of the season.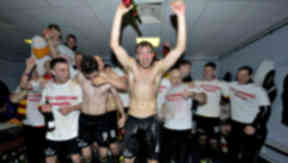 For the first time in a decade, Partick Thistle fans who gather in the famous Firhill stands next season will watch their team playing as part of Scotland's top flight in the Scottish Premier League.
After failing to seize the opportunity at home against Raith last Tuesday, the Jags travelled to Falkirk with three games left to play and nine points separating them and nearest rivals Morton.
The party started at Falkirk Stadium just five minutes into the second half when Andy Dowie headed in the opener of the game.
By the time Chris Erskine scored the second of the match, the travelling supporters had formed conga lines in the away end - and the job was done.
Players and staff donned T-shirts emblazoned with the slogan 'Kids v Experience #WeGotThis', the first a reference to the flavour of youth in the side which has achieved promotion ahead of the 'experienced' Morton side.
The second, a Twitter hashtag used by fans and players alike in the run up to clinching the title - by Saturday night they had it.
Fans managed to take time out of their celebrations to tweet congratulations to the Jags, with one message even coming from one of the Welsh football fans who attended Firhill in March:
Congratulations to Partick Thistle for getting promoted to the SPL. Enjoyed my time there in March. They play good football, friendly club

— Matthew Phillips (@matt_the_jack) April 21, 2013
The 2-0 Conga #partickthistle #champions @thistletweet twitter.com/Frewba/status/…

— Stephen Frew (@Frewba) April 20, 2013
The #promotionbus is heading to the SPL!!! #partickthistle

— Russell Buchanan (@Rbuch79) April 20, 2013
Works cannot describe the pride I am feeling. Fantastic season, fantastic feeling. Well done Thistle! #partickthistle

— Gareth Bell-Cairns (@throwsptfc) April 20, 2013
Well Done to Partick Thistle on securing their place in FIFA 14

— Dan (@GlasgowGrinch) April 20, 2013
Partick Thistle First Division champions 12/13. YAAAAAAAAAAAAASSSSSSSSSSSSSS!!

— Steven Murphy (@smurphptfc) April 20, 2013
#PartickThistle are trending. And trendy. And SFL Div 1 Champions.

— Erik Geddes (@erikgeddes) April 20, 2013
10 years we've waited for this, PARTICK THISTLE CHAMPIONS #archiesarmy #champions twitter.com/CAB1876/status…

— Ciaran Black (@CAB1876) April 20, 2013
#wegotthis #beepbeep #PartickThistle

— Mark Smith (@jaggo2210) April 20, 2013
@thistletweet Now Showing... twitter.com/grosvenorcinem…

— Grosvenor Cinema (@grosvenorcinema) April 21, 2013
#PPPPP @paulpaton4 twitter.com/THWtwit/status…

— The Harry Wraggs (@THWtwit) April 21, 2013
Partick Thistle players also took time out of their celebrations to thank their fans.
Incredible achievement from everyone involved this season.. Ppl wrote us off but we proved all the doubters wrong!! What a feeling #PTFC

— Sean Welsh (@welshdogg4) April 20, 2013
Well done to Archie and the lads. So pleased for the fans and everyone involved at the club. 4-0 win for the Warriors as well not a bad day!

— David Rowson (@davidrowson) April 20, 2013
Want to thank @kenny_crichton and @rosco1876 for this season. Work goes unnoticed behind the scenes

— Stuart Bannigan (@Banzo8) April 20, 2013
Can't use words to explain this feeling! The jags are going up yessssssss lets all have a party #PartickThistle #WeAreGoingUp #boom

— James Craigen (@Cragsy28) April 20, 2013
That's for everyone who doubted me and the boys! #boom #WeGotThis #SorryNotSorry #champions

— aaron muirhead (@aeromuirhead) April 20, 2013
Defender Aaron Muirhead even managed to take a video in one pub as the Jags fans partied long into the night.
Apr 21, 2013 | #champions by aeromuirhead on Keek.com
As well as tweets from fans and players, accounts for several football clubs also offered their congratulations.
Hope every Thistle fan is having as good a night as we are. Be proud of the contribution you have made. #onethistle

— PartickThistle FC (@ThistleTweet) April 20, 2013
Congratulations @thistletweet on winning the league title. We ran them close for a bit but their form has been exceptional! #WellDeserved

— Greenock Morton (@Morton_FC) April 21, 2013
Congrats to fellow Ramsdens Cup finalists @thistletweet on clinching the 1st div title and promotion to the SPL.

— Queen of the South(@OfficialQosFC) April 20, 2013