Rangers appoint Craig Mather as interim chief executive of the club
Mr Mather has replaced Charles Green who stood down last week amid claims of links with former owner Craig Whyte.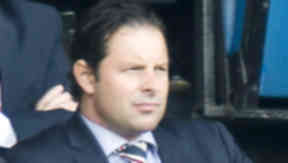 Rangers have announced Craig Mather has been appointed interim chief executive after Charles Green stood down last week.
Rangers International Football Club plc made the announcement to the London Stock Exchange on Wednesday, saying Mr Mather would also take up the role of chief operating officer.
The statement confirms the 42-year-old owns 1,800,000 shares in the club, 3.1% of the company's shares.
He has been appointed interim chief executive after Mr Green stood down citing "negative publicity" surrounding allegations of his involvement with Craig Whyte during the buyout of the club's assets last summer.
On Wednesday, the club said: "Craig has been director of sports development for the Club since October 2012 and is currently a shareholder in the Club having invested prior to its initial public offering in 2012.
"In the meanwhile the search for a permanent replacement for Charles Green will continue and a further announcement will be made as appropriate."
When Mr Mather invested last year, he stated that he wanted to get involved with the youth development side of the club through sports management firm he co-founded, Simply Sport Management, which represents footballers, cricketers and rugby players.
He was appointed director of sports development at Rangers last October after his investment.
On Friday, Mr Green announced to the London Stock Exchange that he was leaving his role with immediate effect, citing "negative publicity" surrounding his links with former Rangers owner Craig Whyte.
'Delighted'
Mr Mather said he was "delighted" to take on the role. He added: "This is one of the world's great football clubs with a long and proud history and I had no hesitation in investing personally in Rangers. My own business background is in sport and particularly in youth development, something that will be fundamental to the success of this club.
"However, I think the initial priority for the club is to get clarity on what the future holds for reconstruction and I hope to meet with the football authorities as soon as possible. Rangers have an important role to play in Scottish football and I think it would be beneficial for this club and football in general for me, with other representatives of Rangers, to talk openly and constructively to people in the game and I look forward to doing that.
"I will also be speaking to Ally McCoist and his team about their plans for next season and I look forward to working with them closely going forward. Rangers fans have been outstanding in their support for the club during the most difficult of times and I know they don't know me and may have some doubts. I hope to dispel all of those if that is the case."
He continued: "I know there have been rumours about who is supposed to be connected with whom but I prefer to distance myself from all of that. I know what my own hard work has achieved over the years and where it has taken me and I will use of all of my experience and knowledge to help improve Rangers.
"I could not stand here and tell you I have always been a Rangers fan but I can say, with profound honesty, that I have been around football all my life and I have known of Rangers and their huge successes for many years. But then who hasn't?"
In a statement released by the club, Mr Mather said the Glasgow club's supporters "deserve so much better than they've been getting of late."
Rangers chairman Malcolm Murray added: "The board has approved his appointment and look forward to him pushing us in the correct direction. Craig will lead the business on a day to day basis but I want to make it clear we are in a healthy position financially following the successful flotation of the company in December last year. I would also like to assure all of the supporters that this money is being used for the benefit of the club and nothing or no one else."
Mr Murray also highlighted that "no-one should jump to conclusions regarding the outcome" of the investigation being led by legal firm Pinsent Masons in relation to alleged links between former owner Mr Whyte and Mr Green, Imran Ahmad and finance officer Brian Stockbridge.
The chairman added: "The fans deserve to be reassured on clarity, transparency and asset ownership and this is the main purpose of the enquiry. The last week or so has been turbulent for the club but we should bear in mind that the process of rebuilding is well under way.
"Now is the time to move forward and the most important thing for all Rangers fans, myself included, is ensuring our club can play as constructive a part in Scottish football as possible."
Mather's background
Leicestershire-based Simply Sport Management states on its website that it focuses on representing young and aspiring sports people, however it lists current clients include Hibernian striker Shefki Kuqi and Israeli striker Tomer Hemed, who previously turned down a move to Rangers in favour of Real Mallorca in Spain.
Mr Mather is also managing director and majority shareholder of Simply Cartons Limited, a packaging firm he set up with his friend and business associate Guy Gisborne in 2006. The Nottingham-based firm describes itself as "UK's most innovative carton manufacturer" and includes chocolate firm Thorntons and supermarket Tesco among its clients.
Parent company Simply Cartons Holdings Limited recorded profit after tax of £1.6m in its annual accounts for the year ending June 30, 2012. Mr Mather was paid a £311,580 dividend by the holding company for his work as managing director last year.
He also established Simply Racing Limited with Mr Gisborne in Nottingham in April 2011. It is involved in racehorse ownership and, according to its Twitter profile, the firm has "two very exciting two year old prospects". According to records on the Racing Post website, the firm has recorded two wins since 2011 and has only been involved in one run in 2013.
According to a biography on the Simply Cartons website, Mr Mather was "was a pretty good footballer as a youngster and played to a good standard but, like many others, he was reluctantly forced to accept that his plans for the premiership were just a pipedream."
It stated that five years after following his father into the printing business, "Craig became a valued member of the senior management team of a multinational plc," although the name of it is not given.
The online biography about Mr Mather stated: "As a highly motivated businessman with a proven track record of launching successful companies for large corporate entities and PLCs. He brings both extensive corporate expertise and global business experience to the company."
He is also a director of One Events, described as a "sports event management company responsible for promoting events throughout the UAE." Earlier this year, he was involved in the launch of the Dubai Duty Free Darts Masters competition, which will take place in May this year and seeks to bring the world's top eight darts players to compete against each other in the United Arab Emirates.