Developers to hold public consultation on £85m eco-tourism project
Wildside would see three biospheres, restaurants and a hotel built on waste ground near Rutherglen.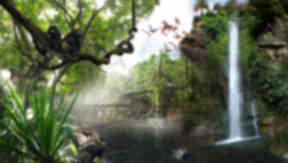 An ambitious eco-tourist development in South Lanarkshire could bring a "significant boost" to the local economy, according to developers.
The planned attraction, dubbed Wildside, would see three biospheres – polar, temperate and tropical - constructed on derelict land at the Cuningar Loop between Rutherglen and Dalmarnock. Each would contain plants and animals native to the corresponding climate.
Restaurants and a hotel would also be built in order to make the area a "leisure destination", Wildside World Ltd said in a statement.
The project would cost an estimated £85m and open shortly after the 2014 Commonwealth Games.
Detailed plans will be submitted in the summer, and developers are holding drop in sessions this week to canvas local opinion and gather feedback about the proposals.
Steve Minion, Director of Wildside World Ltd said: "We want to work as part of the wider community and we would like to share our exciting plans with the people of South Lanarkshire and Glasgow and hear their views.
"The consultation events are an opportunity for us to share our vision with the local people and unveil some of the images of what Wildside will be like, and what it will bring to the region.
"We hope to engage with people at this early stage so that we have the opportunity to invite them to join in our consultation exercise and to update them in the future on our activities."
The sessions will be held on April 29 from 5pm to 9pm and on April 30 from 2pm to 6pm at Rutherglen Town Hall.